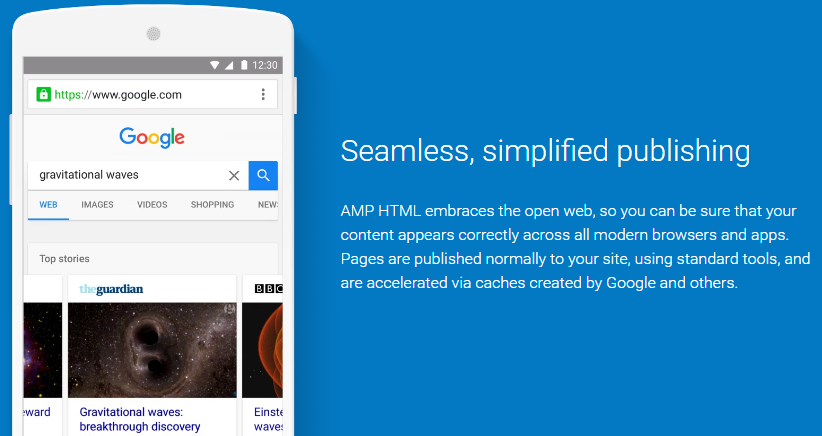 AMP, also known as Accelerated Mobile Pages is an open-source project based on improving the speed of web pages on mobile devices. Benefits of Accelerated Mobile Pages include faster page loading speed, a lower bounce rate of users clicking onto your page to then leave, and a more compelling reason to stay and interact with your content. A project launched a few months ago, AMP is leading in the world of technical change to HTML pages – and for a good reason too.
AMP may be good, however, it is only limited to what it can be used for. The basis of the project is to reduce the speed it takes for content to load on mobile devices, thus, Accelerated Mobile Pages can only cover published content such as news stories, videos and clips, blog posts and GIFs. It will not work for a regular site page, like a homepage for example.
Major outlets such as The Guardian, The New York Times, BBC, Daily Mail & BuzzFeed have already implemented AMP capability into their sites HTML and are already reaping the rewards. A little over a month ago, Google added a carousel onto its SERPs to feature dominantly only AMP articles at the top of the page. Articles that appeared on the carousel for popular terms saw their search engine impressions skyrocket and clicks increase, nonetheless not as dramatically as their impressions. However, the future seems bright for AMP, as Google is really pushing the project and driving it forward to its success. Near-future updates could see Google do more to promote AMP-based pages over their non-AMP based counterparts, potentially fine-tuning the search engine algorithm for mobile devices to favour AMP-based content. This could see the infamous, AMP lightning symbol appear next to such results, facilitating a user shift over to preferring AMP-based content.
We can't all jump on the AMP hype train however, because of its limitations and specifications for the type of page allowed – content. At the BrightonSEO 2016 conference this year, Dominic Woodman, digital consultant at Distilled provided a talk on AMP and gave two factors as to the kind of pages and sites that should bother with implementing AMP, these were:
Sites that distribute a lot of content regularly.
Sites that receive a high proportion of mobile users.
It was said if your site didn't fall into these two categories, then for the meantime, you should hold back on advancing over to Accelerated Mobile Pages for now (unless of course, you really want to). However, AMP is here to stay, and with its ever-expanding abilities to prove to the web that it is the fastest way to provide users with the content that they desire the most, I expect to see a lot of publishers grapple the technological change.