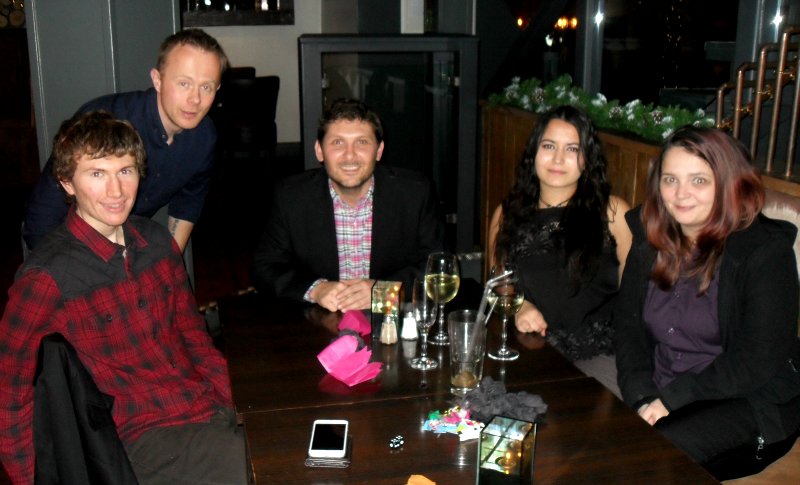 As we welcome in a brand new year (#Hello2016!), we remember all of our favourite Silkstream moments of 2015. Including our fantastic Christmas dinner at Mangetout in Southend! (Seriously, check out Mangetout sometime. Make it your New Year's resolution in fact!)
The end of 2015 saw the Silkstream family back to being the five of us again. Having completed her year-long apprenticeship in social media, Chloe left in October to pursue a career which focused more exclusively on social media and we wish her all the best in the world at her new job in Intu Lakeside!
Read: "The end of a journey: My Last Day" by Chloe

And so, we are now accepting applications to join our team as an apprentice. If you are interested in undertaking a Web Design / Development apprenticeship or a Digital Marketing apprenticeship (or know someone who is), please send us your CV! We are looking for someone to fill a full time position with us after completion of the apprenticeship and therefore passion, enthusiasm and willingness to learn and keep on learning is a must! (Also, if you enjoy pool you'll be happy to know we have one in the games room…)

Check out our Careers page for more details!
Google Certified!
2015 has also marked the year that we took our Google Partner status to a new level with Leigh passing his Google Adwords exams for Search Advertising…
Breakfast at Google this sunny morning. Followed by #adwords exam! pic.twitter.com/2XqeB8lxeg

— Silkstream (@Silkstreamnet) May 20, 2015
And myself (Ria) and Hayley passing our Google Analytics IQ exams!
Top 5 Blog Posts of 2015
According to Google Analytics, these are the top most viewed blog posts of 2015:

 1) How to Increase Your Google Plus Views Like A Boss!

 2) ReTweeting With Your Twython Twitter Bot

 3) "Content is King" – Bill Gates, 1996
 4) Twitter Crimes: Accidentally favouriting a Tweet

 5) How To Get Going With Twython
Happy 2016 from Silkstream!
We've got some exciting new updates to share with you within the next couple of months so stayed tuned… And we're also excited for BrightonSEO in April 2016, after having attended BrightonSEO September 2015 (which was awesome btw).
Why not Follow us on our journey?