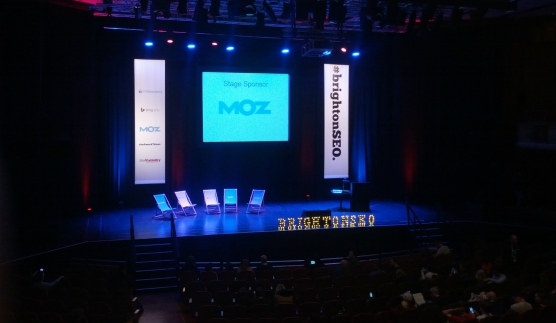 So that was an exciting weekend. Whilst most are excited for the next big music festival, we at Silkstream were more excited about the BrightonSEO conference. I personally had written up my schedule of who I wanted to see, what time and where as soon as the details were announced a while ago. Unfortunately I didn't get to see the talks that I really wanted to go see (Technical SEO with Aleyda Solis, Tomas Vaitulevicius and Mark Thomas at the Moz Corn Exchange) due to it packing out early, so I missed out on "Large Site SEO Architecture" – but this didn't dampen my day and I gained so much from the talks that I did attend:
Onsite

Jon Earnshaw – Is your content working better for someone else?
Chris Green – Cannibal Content: Stopping Your Website From Eating Itself
Pete Campbell – From SERPs to Markup: How To Increase Your Earned Traffic

Lomo

Gary Illyes – Mobile SEO is Still the New Black
Greg Gifford – Local SEO: A Seriously Awesome Blueprint
David Mihm – Maximising Your Local Search Presence in 2016+
Jon Henshaw – Mobile SEO

Content

Shelli Walsh – How To Have Ideas for Creative Content
Cathal Berragan – Lessons Learned on the way to Half of a Million Twitter Followers
Pippa Moyle – Merging your business into the 24 hour news cycle

Keywords

Gianluca Fiorelli – An actionable guide to modern Keyword and Topical Research
Neil Collins – The Power of Audience Targeting In Short Tail Keyword Markets
Gerald Murphy – SERPs: From keyword to click

Closing Keynote
So my experience of BrightonSEO is based on the talks listed above and the general atmosphere in the foyer areas between talks. During break times, there was a wonderfully casual environment that consisted of coffee drinking, business card exchanging and enthusiastic discussion over which SEO tools are better. Was certainly quite lively throughout the day, without being too overcrowded that you couldn't get to any of the many stalls in the area.
Onsite at BrightonSEO September 2015
I think the first trio of talks in the morning at the Old Courthouse was definitely my favourite and most insightful. Jon Earnshaw (CTO and Co-Founder of Pi Datametrics) reminded us all of the importance of late night SERP exploration with a lot of exciting keyword ranking data showing the effects of scraped content over time and how it creates the "glass ceiling" we often see in our rankings. Jon showed us how we could detect scraped content, and steps we can take to have it removed (mentioning that Google's way of dealing with it can be quite inconsistent…).
Jon Earnshaw was followed by the Chris Green, with his talk on Cannibal Content and How To Stop Your Website From Eating Itself – a very common issue with larger websites such as ecommerce. Chris explained about thematic cannibalisation being a largely ignored problem, when we focus too much on duplicate content alone which isn't the only way that a large website can cannibalise itself. He delved into various solutions including logical keyword mapping, internal link architecture, site structure, and canonicalisation. And, of course, how to use our data to identify the problematic pages in the first place.
Last but not least of the Onsite talks at BrightonSEO 2015 saw Pete Campbell go up on stage at the Old Courthouse for his talk on structured data markup. As CTRs are falling and a quarter of searches now include the knowledge graph, is this just a coincidence and what can we do to entice searchers to click on our search results? Pete went into the absolutely essential structured data that we should all be using to enhance our search result listings using rich snippets, and how to easily implement schema into our websites.
Roundup of… everything else?
Gary Illyes' talk on the future of mobile with Google was quite disappointing… Nothing particularly enlightening in my opinion with things that we should all already be aware of at this point, and the presentation seemed more like an ad for Google. Which isn't too surprising, Google being Gary's employer 'n' all…
Gregg Gifford was sensational onstage with his energetic talk on local SEO. Cathal Berragan of Social Chain was an inspiration as he explained the unbelievable journey he's been on in the past couple years and the lessons that he's learned along the way. To be honest though, I found some of the more content-based talks were more there to inspire than educate when I personally prefer the latter. Gianluca Fiorelli had a brilliant talk in the afternoon, presenting actionable tips on how to improve your keyword research strategy. Exploring beyond Google's Keyword Planner, Gianluca showed us a range of topical research and keyword research tools readily available at our disposal that some of us may have never even considered.
The day ended on an extremely high note with keynote speaker, Dave Trott. The perfect way to end the day. Giving us food for thought before we all left to get the train home (or cashed in our drink tokens at the bar). He apologised for sounding angry when talking, saying that that's just the way that he talks, but I found the way in which he ranted to be part of the "Dave Trott Experience" really. He encouraged us to look beyond the acronyms which we have used to define ourselves (SEO, SMM, CRO, etc) and start thinking creatively about the purpose of what it is we do and how we can actually make an impact and achieve the goals.
Did anyone else notice the duplicate content in the BrightonSEO magazine?
(Click for full-size image to properly compare.) Though layout, title and author are different the article and headings are word-for-word exactly the same haha.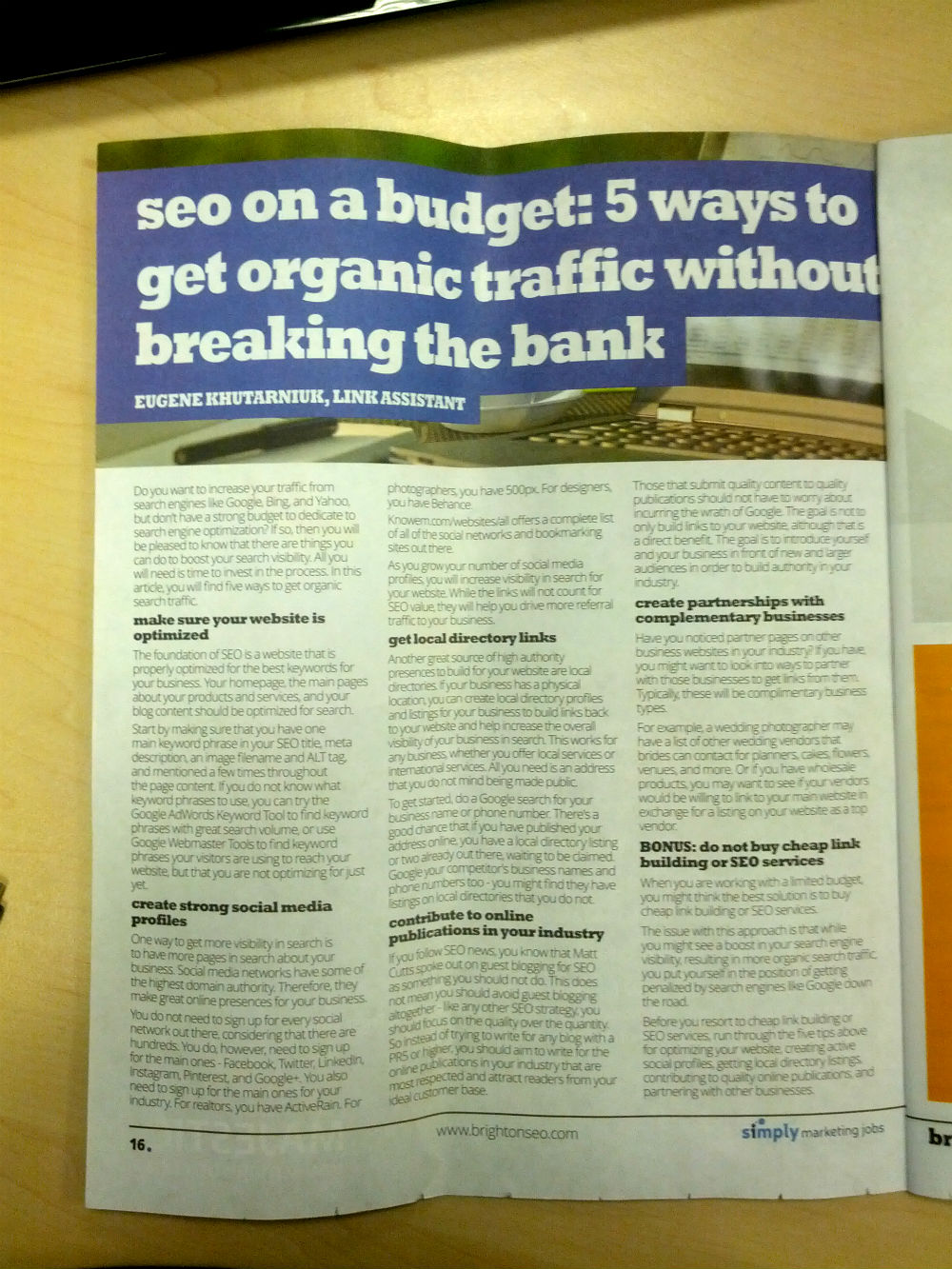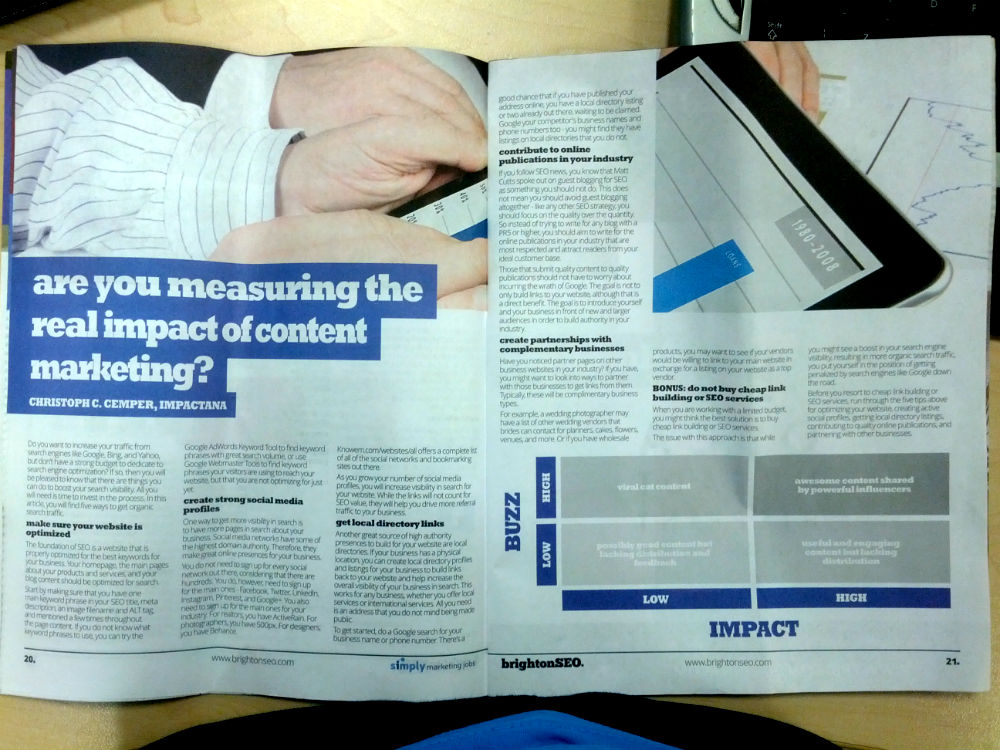 ---
Can't wait for the next one!
And for those who have never gone before, it is definitely worthwhile. 
Check out all presentations and Slideshares from BrightonSEO September 2015!