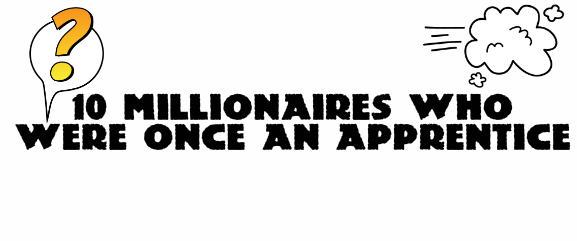 We hear a lot about the rich and wealthy, with the presumption that many of them obtained their wealth through either family funds or through expensive degrees that then saw them dropped into the job of their dream. But the truth is, that's not correct – not all millionaires inherited their wealth, and a big number of them didn't even go to university to get a degree.
As we celebrate National Apprenticeship Week 2016, here's a list of 10 millionaires who were once an apprentice.
1. Charlie Mullins: Worth: £55m
Charlie Mullins always wanted to be a plumber since a young age. At the age of 15 he started a four-year apprenticeship and then went on from that to set up his own company called Pimlico Plumbers of which now employs 180 people, with 150 vans and offers 12 apprenticeships.
 2. Charan Gill: Worth: £14m
Charan Gill came to Scotland from India at the young age of nine years old, and left school to become an apprentice at a local shipyard. From that he decided to get into the business sector of Indian restaurants, working his way up from restaurant cleaner to launching his own chain of 17 restaurants. Charan now manages a property portfolio and continues to maintain his growing success.
3. Sir Anthony Bamford: Worth: £2.15bn
Sir Anthony Bamford, who was knighted in 1990 is the chairman of the building hardware company JCB. Bamford started our his career with a two-year apprenticeship at Massey Ferguson in France, which created tractors used for agriculture.
4. David Beckham: Worth: £300m
David Beckham, ex-footballer for the England national team started off as an apprentice at a Youth Football Training Scheme. He went on to hold a football career of over 20 years, win over 19 major trophies and a place on FIFA's 100 list of the world's greatest living players.
5. Jamie Oliver: Worth: £240m
Jamie Oliver, starting off as a former catering apprentice is now one of richest Britons under 30 and one of the most well-known TV chefs of which persuaded the British government to introduce healthier school meals.
6. John Caudwell: Worth: £2.6bn
John Caudwell, started off a mechanical engineering apprenticeship with Michelin Tyres went on to co-found "Phones 4 U" the mobile phones distributor. He since went on to sell the company for £1.5 billion.
7. John Frieda: Worth: £150m
John Frieda, a former apprentice hairdresser is a British celebrity hairstylist. He went on to open numerous hair salons across the world, as well as his own hair product businesses.
8. Ross Brawn: Worth: £100m
Ross Brawn, head of some of the Formula One teams over his long spanning career once too started out as an apprentice, taking out an apprenticeship in mechanical engineering for the UK atomic energy authority. Teams with Brawn in have won, in total, 8 drivers' championships and 8 constructors' championships.
9. Alan Titchmarsh: Worth: £10m
Once a gardening apprentice for 3 years at Ilkley Park, Titchmarsh is now one of the most well-known gardeners on TV and has had a whole array of TV shows in his name.
10. Sir Ian McKellen: Worth: £38m
The actor who played Gandalf the Grey in the Lord of the Rings film series amongst other film roles was a former three-years apprentice at the Belgrade Theatre in Coventry. It is said that it was there he crafted his talent for acting to then go on to be one of the most celebrated actors in British history.
---

So that's 10 millionaires who were once apprentices. Whether you have an interest in acting, gardening, motorsport, football, hairdressing, engineering, catering, business or plumbing – an apprenticeship caters for all. If you aren't one already, why don't you see if there's a good match for you?