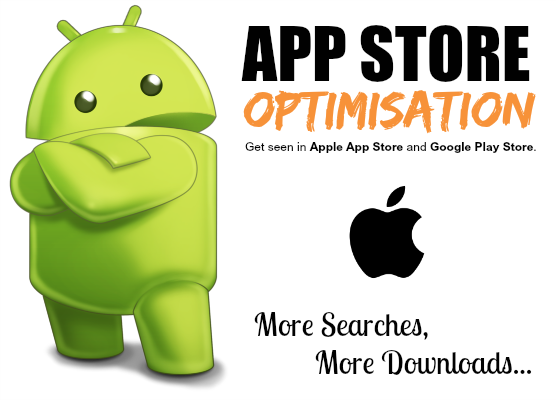 The world is not what it was even five years ago… We have new technology, new trends, new acronyms to remember. One of them being ASO.
But what is ASO?
ASO stands for App Store Optimisation. It's basically Search Engine Optimisation for ranking mobile apps in mobile app stores. However it's important to remember that ASO is still technically a form of SEO as you are still trying to optimise your app for easy search discovery in the app store, and so a lot of the same SEO strategies still apply. When mobile users search for your keywords in the app store, you want to appear above all other apps. The higher you rank, the more visible you are to your audience and the more app installations you will receive. The majority of app downloads come from search, making app SEO a high priority for app store optimisation.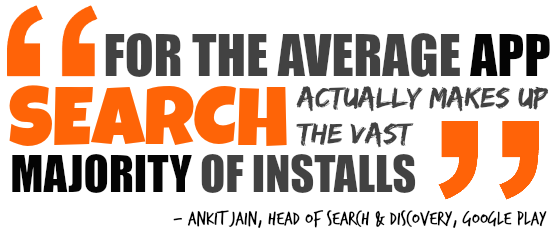 So you've just released your amazing app that you know everyone will love. But when you go to search for it in the app store… Oh no, you rank in the 50s! Who's ever going to scroll down that far?!
This is where app store optimisation comes in.
The two main app stores are Google Play (for Android, obviously) and Apple App Store (guess who owns that…). Then you can go into things like the Windows Store and Blackberry World, but yeah….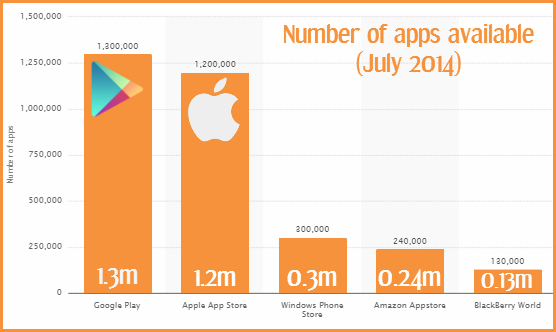 Number of apps available in each of the five major app stores (July 2014)
As of last month (February 2015), the number of available apps in the Google Play Store alone was calculated to be 1.4 million. There are more and more apps being uploaded to app stores everyday, creating an increasingly competitive market, and so a good ASO strategy is quickly becoming more of a necessity than ever before. But with a few key ASO basics in mind, you'll be well on your way to becoming a top appreneur! (Yes, that's a word now…)
App Store Optimisation Keyword Tips
For app SEO, keyword research is just as important as it is for website SEO. You can use Google Keyword Planner to get an idea of how users tend to use language related to your app. Though Google Keyword Planner is intended for Google's search advertising, you can get a feel of how internet users generally tend to search for things, but you do need to take any keyword research done through this tool with a pinch of salt.
Keywords can be perfected over time as you narrow down what works and what doesn't. It's something that needs to be constantly reviewed and improved, as you refine your keywords based on new keyword research. App stores are a constantly evolving landscape, based on current trends. Though the practice is disliked by many, there's a reason why clones of popular apps get so many downloads. They use an existing winning formula to create variations of already popular or trending apps, making the app easier to discover in app store search.
When performing keyword research, don't forget to check out the keyword competition in the app store. What sorts of apps come up when you search for your main keywords? These apps are your keyword competitors. You should see how successful these apps are to get an understanding of how competitive your chosen keywords might be to rank for, and analyse their usage of the keywords in their app's title and description.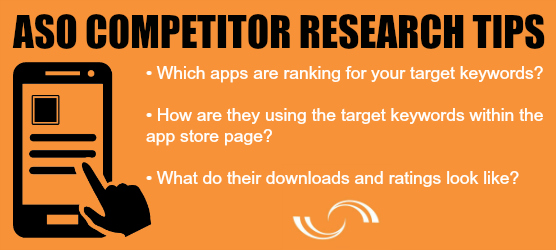 Keywords can be inserted into:
App Titles
App Descriptions
Keywords Field (only available on Apple App Store)
In Apple App Store, you can enter your app's keywords to tell Apple what your app is all about. But be selective in your app keyword tags, as you only get 100 characters!
App Titles for ASO
Having your main keyword in your app's title can dramatically improve your app's searchability. Changing your title frequently can impact your app's search performance negatively, so try and get the title right the first time. This will also help for word of mouth promotion, one of the most popular methods of app discovery, as renaming your app will not help those users who have heard about the app through word of mouth.
Think of the app title the same way that you think about a web page title for SEO. App title character limit for Apple App Store allows for up to 255 characters, but that doesn't mean that you should make use of all 255 characters! In fact, the recommended length for app titles is up to 25 characters for Apple App Store. For Google Play Store, you are limited to 30 characters when naming your app. But, also take into consideration that depending on the device's viewport or screen size, the title may be truncated which could deter some users from clicking through due to the unattractively "spammy" look.
App Descriptions for ASO
With Google Play Store, you can write a Short Description limited to 80 characters. This will be the first description of your app that the user will see, and so the Short Description must really be written with your audience in mind. You can use your keywords naturally in this space but really you should be using this space to sell your app; not to spam your keywords. Beneath your Short Description, there's a Read More which will expand to show the Full Description…
Both Google Play Store and Apple App Store allow you up to 4000 characters in total to play around with, but only Google Play Store will index the app's Full Description for search. This means that you should make use of the 4000 character limit in Google Play Store to write content optimised for app store search. However, since Apple does not index the full app description, optimising the content for search discovery is less important. Instead, word things concisely with focus on promoting your app to the user. You can use the app description to list features, reasons why your app deserves to be downloaded, and reviews from external high-authority sources.
App Search Ranking Factors
Other than the title and description, app store search ranking factors include the number of downloads and the app's reviews and ratings. Like web page ranking signals, freshness also plays a part in ASO, meaning the rate at which downloads and reviews are occurring can affect how your app ranks in the app store. Updating your app often to fix bugs and generally improve the user experience through design or functionality can contribute toward the fresh factor. As do the downloads growth, uninstallations and usage. Apps that haven't been updated in a while, or start receiving less downloads than before, may decline in app store search ranking.
How To Get More App Downloads
Reach out to app review blogs and YouTube channels, asking them to review your app to their audience. There are absolutely loads of these blogs and YouTube channels out there.
Provide links to your app store pages from your email signature templates.
Actively use Google+ to get your app more +1s in the Google Play Store. Apps with lots of +1s are going to make the app look more popular. Similar to how people are more inclined to Follow a Twitter user if they have more Followers.
Include screenshots and a YouTube video of your app in action. Users are more willing to download an app when they have an idea of what to expect.
Get good reviews and ratings in the app store. Even if your app is ranking based on keyword optimisation alone, if your app is plagued with negative review then people will be less likely to download it.
Have an icon that pops! Something that's memorable and eye-catching, something that will draw the searcher to click on it, despite it ranking below those other two…. Not only this, but if someone is searching for your app after having seen it elsewhere, your icon needs to be immediately recognisable so that they don't end up clicking on another similar app out of confusion.
A lot of people may argue that a lot of the popular apps don't seem to have any focus on app store optimisation. But unless your app hits viral infamy upon launch, you need to be pushing search for initial discovery before word of mouth takes over.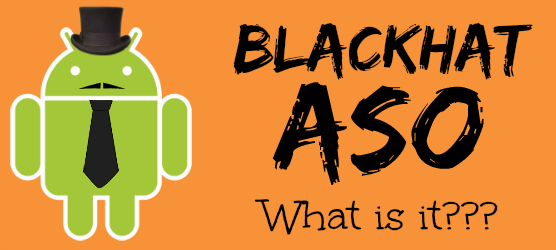 Black Hat ASO
It might seem like an attractive option, especially when your app isn't performing as well as you thought it would, but it's important to avoid using black hat ASO tactics as it's incredibly easy to get caught. And, once you're caught, you can get your app banned from the app store. And then what would you do…?
Black hat ASO tactics can include using bots (or paying real people!) to generate more downloads and/or positive reviews to increase your stats and manipulate your search ranking. Or even something as simple as deliberately keyword stuffing your app store page to rank higher for your target keywords. Google states in their Android Developer Support: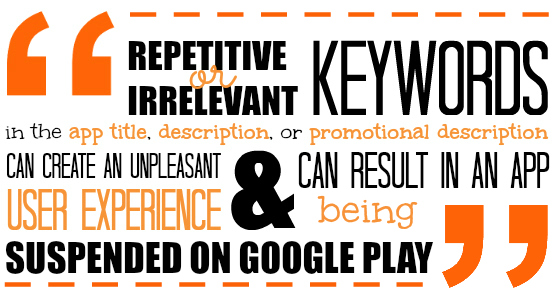 If you're looking for long term success, it is best to just avoid black hat ASO tactics all together. Though you may see a huge number of downloads come in at first, your app's success will most likely be short-lived.
Resources
App Store Optimisation is still a new area for many marketers, but one that you will have to familiarise yourself with more and more as smartphone penetration increases…