Last week, the Silkstream gang and I published the first part of our video discussion, regarding the role of web directories and how they've changed over the years to adapt to internet user behaviour. I wanted to explore my point in further detail, visiting the differences and similarities between web directories and social bookmarking and how the two have seemingly overlapped.
I also want to clarify that by web directory, I mean a directory of websites. As in a means to website discovery as opposed to business website discovery specifically.
Directories Aren't Dead Yet
Every time I write a blog post now, the moral of the story seems to be on how a link earned is better than a link built, blah blah blah etc. Web directories have developed a very negative image in SEO due to the years of abuse and SEO services offering the automated submissions of thousands of links to truly poor quality directories, in an attempt to boost the website's SEO. As we all know, tactics like this used to work. And they used to work well. But these spammy link directories, ultimately functioning as link farms, have had one foot in the grave for some time now. In 2012, it was thought that approximately nearly half of the web directories on the internet were de-indexed by Google due to their low quality, resulting in those websites being completely useless in nature. Why would anyone want a backlink from a de-indexed website? There's obviously no value in that, and is even potentially harmful to the site's own rankings.
Shockingly, some web directories are capitalising on the downfall of the directory era by charging obscene amounts of money for link removals. That in itself is a big enough sign that directory link submissions are decreasing in value and SEOs are eager to remove these unnatural links.

However, I don't think it's fair that web directories have been given such a bad reputation. If the website is submitted with the honest intention of getting seen by potential visitors or customers, then it shouldn't be treated negatively. Local, regional and industry-related directory submissions can still be highly beneficial to the website. They're a good place to get citations and they provide a legitimately useful directory to local residents in need of a particular service.
Of course, before you decide to submit your link, make sure that the web directory has good authority and, most importantly, is not de-indexed by Google. Bear in mind that some paid listings, or web directories which require a reciprocal link, can go against Google's Webmaster Guidelines so it's important to check the directory's requirements to see whether it's fine with Google. (Though Google may change their mind next month, who knows…)
Directories Have A Hot, Younger Sister: Social Bookmarking
As I stated in the video, I really do feel that web directories have evolved to become a lot more social. In most cases, some social bookmarking websites aren't even recognisable as a web directory, but the principle remains the same. A website is submitted to a collection of websites with the intention of being discovered. You'll find with most social bookmarking sites, such as Reddit, that the link can be categorised or subcategorised so that it may be discovered by a specific target audience. Like web directories. In fact, some social bookmarking websites even allow for sponsored listings. Again, like most web directories!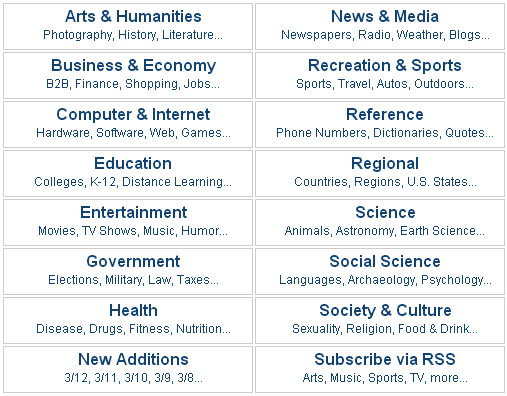 Website discovery has become more spontaneous now. Come on, who really uses Yahoo's directory to find new websites anymore? When we have something specific that we are looking for, we Google it. But the internet has become so easy to browse and share that we naturally just come across new websites everyday. No big deal. I used to spend hours on websites that I located through Yahoo! Directory within the categories of my interests. Going through all of its pages and visiting its recommended links to other websites. Now all I have to do is visit a subreddit of my choice, browse through the mass of continuously updated links tailored to me. I click one, perhaps spend a few seconds to a few minutes on that website, go back to the subreddit and repeat the process. Now that, I can do for hours. Because now I have that choice available to me. And the hunger to consume more and more bite size media from multiple sources is being fed by these social bookmarking websites.
Google is encouraging webmasters to develop and design websites with the user in mind, not the search engine. Don't worry about keywords or backlinks, we're told. If a website is worthy of attention, it's going to get it. And that's because it's easier, now that the internet is more social, for site sharing to cause a ripple effect and "go viral". It takes a single person to enjoy the content of a webpage, submit it to Digg or Reddit or whatever, and then those who discover it via social bookmarking will continue to share the content again, and again, and again via other social platforms. Suddenly the formality of browsing web directories is gone. We, the users, can rank individual webpages of a website and discuss the content 'til our heart's content. It's about the people's choice rather than the editor's or the search engine's. It's not about building backlinks anymore; it's about making an impact on the community. And that there is your potential for traffic growth. The backlinks should come naturally from there. If you want your website to become successful, you have to earn it with high quality page content that people are going to want to share. Google are encouraging us to slow down on the self-promotion and link building, and instead get creative and find ways for fans to do the link building for you. This is Google's direction, it seems. And arguing over the quality of web content is our's: