What is Reddit?
Often being credited as the "Front Page of the Internet", Reddit is a unique social platform that cannot be compared to anything else out there. Topics of interest are organised into subreddits, each one a self-contained community with its own subculture of the overarching Reddit culture and "reddiquette". Reddiquette, as you may well guess, means Reddit etiquette and describes the informal rules regarding how to behave on Reddit. Though generally not enforced, they exist to better the community and encourage respect between Reddit users. Individual subreddits may have their own reddiquette and regulations that it wishes its users to abide by. Anybody can create a subreddit, meaning that it really is that easy to develop a community of like-minded people based around any theme or interest. And with such a broad demographic, Reddit truly can accommodate the rarest of interests.
It's easy to see then how Reddit is largely recognised as being at the forefront of internet trends, paving the way for everyone else. Rich with unique content creation and mass content sharing, it encourages discussions of both new and existing ideas. Rewarding participation with "karma" rather than points, Reddit's interaction system is based very loosely around the concept of gamification whilst avoiding focus on it at the same time. Instead, karma acts as an incentive to do good on Reddit by contributing to the community. Reddit says, "don't set out to accumulate karma; just set out to be a good person, and let your karma simply be a reminder of your legacy". Saying that, the way in which to earn karma is by getting good reception on submitted links (for link karma) and comments (for comment karma).
Why do I want Reddit to like me?
Well, aside from the fact that really you want to be liked by everybody on the internet…. In 2013, Reddit received approximately 56 billion pageviews from 731 million visitors, the visit duration averaging 15 minutes 55 seconds. There were 3,037,413,635 votes on 40,855,032 posts, generating 404,603,286 comments which in turn generated 3,676,091,578 votes on said comments, creating a total of 6.7 billion votes. If all you got out of that was a bunch of big numbers then I think I've made my point. You can see now how small websites that make Reddit's front page can crash from such a high influx of traffic (and what is effectively a DDoS), even though most that make it to the top will only stay up there for a few hours, if that – this is known as the Reddit Effect.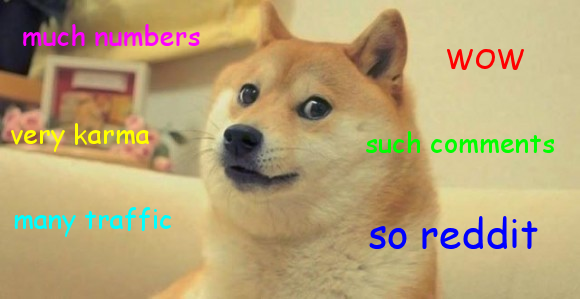 With such a huge user base, Reddit can be an extremely powerful marketing tool. The number of celebrities who have participated in Reddit's AMA (Ask Me Anything – a live text-based Q&A with Reddit users) is certainly extensive, and include such influential figures as Al Gore, Psy, Arnold Schwarzenegger, Bill Gates, Ron Paul, Madonna and even Snoop Lion. There's even been an AMA conducted from the International Space Station with Chris Hadfield. Louis CK netted a total of $4.5 million in sales within just 45 hours during his successful AMA campaign to promote his new DVD. Even Barack Obama did an AMA as part of his 2012 presidential campaign, where he answered the public's questions live as they were coming in, receiving a total of 24,098 comments and nearly half a million votes; he even had posted a Reddit-inspired meme of himself on his official website.
You don't have to be famous to do an AMA though. The majority of AMAs consist of regular people with interesting professions or a unique experience to share with those who might be curious. The main benefit of doing an AMA isn't only to promote you or your brand, but to gather honest feedback from your target market or potential market. It's important, when conducting an AMA, to answer questions with the utmost transparency. If you get called out negatively, Reddit can make it extremely difficult to redeem yourself and this can potentially be brand-destroying for some.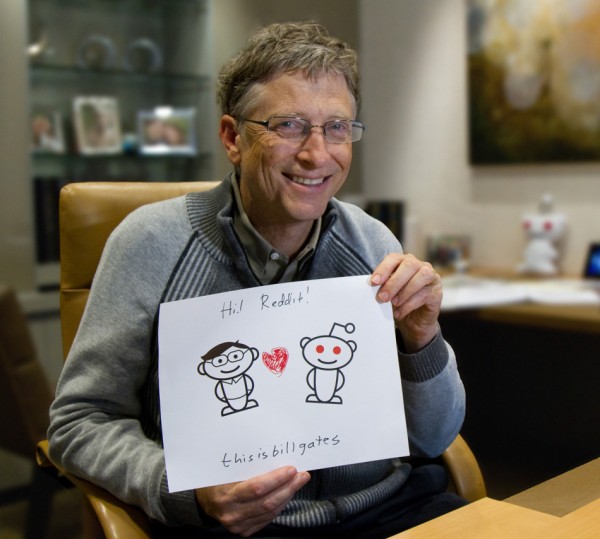 Will Reddit like me?
Generally, Reddit doesn't like making friends with marketers and PR practitioners. What you want to do is, not trick them into liking you but, genuinely get them to like you. And in order to do this, you need to give them a reason to like you. If you can become an active member of the community and accumulate the karma as proof, then you will gain Reddit's respect and more Reddit users will trust you as a reliable source.
Redditors have become awfully skilled in detecting spammers and marketers and you will run the risk of being downvoted, and perhaps even digitally tortured across other social platforms, if you become too spammy. Redditors don't browse Reddit to be sold a product, so you have to be subtle in your marketing. If you don't have a single interesting thing to say and you're not a likable person, just stop now. Reddit's not for you. In fact, just lay off the social media altogether. It's not for the weak or lazy.
Your account profile is the tell tale sign of a spammer. Every upvote, downvote, comment and submission leaves a scar on your profile – and you will be judged accordingly. Never underestimate how often your profile will be stalked. Bear in mind that a simple "http://www.reddit.com/domain/HeyIveSeenThisDomainBefore.com/" will list all submissions with that domain, including the name of the user that submitted it. And if you're the only name to come up twenty times for the same domain, then you're going to get called out and maybe even banned (popular URL shorteners such as bitly have been disallowed). Some marketers have a habit of performing drive-by submissions. This, as you can imagine, is what really wrecks marketing's reputation on Reddit. If you're going to submit a link to your website, for the love of Google, at least stay to reply to comments and engage in the discussion.
How do I get Reddit to like me?
It's like trying to get people to like you at school again. If you're that quiet kid lurking in the corner, no one is going to know who are you and no one is going to care about you. Likewise, if you're that kid that talks about nothing but themselves all the time, no one is going to like you either. You have to get into the mind of the Redditor; prove that you're not only human but that you're *gasp* one of them! It's the only way that you're going to be able to appeal to the hivemind that is Reddit. Though Reddit's user base comprises of a diversity of people from around the world, there is a particular attitude that seems to accompany the user base as a whole. In comparison to other social sharing sites like Facebook or Twitter, Reddit can feel rather elitist with its constant stream of in-jokes and hivemind humour. As a marketer on Reddit, you will need to be at the core of that so as not to stand out as an outsider looking to use and abuse the community.
First, you'll need to find where your brand fits in. Make a list of all possible subreddits that could suit your brand or product. These needn't be limited to specifically themed subreddits, but maybe your target market also hangs out on popular general subreddits such as /r/gif or /r/funny. Of course some subreddits are more popular than others and each will tell you in the sidebar how popular that particular subreddit is. The more users that frequent that subreddit, the harder it will be to rank highly or make it to the first page of the subreddit, but on the other hand you will have a larger audience to appeal to. Make notes of what themes are popular within each subreddit: what type of posts are always on the front page; what are the most popular posts ever submitted to it; conduct your own keyword research, Reddit-style, into the sort of language that your subreddit reacts to. Use all available statistics to determine the underlying personalities behind the subreddit's usernames, even down to the most effective time to market to them.
The key to Reddit is interaction. The more you participate, the more you will gain. Reddit's search engine can be a great place to start looking for marketing opportunities. You can use it to search across the website as a whole or within an individual subreddit. Find opportunities on /r/explainlikeimfive (a popular subreddit where people request answers to their questions explained in layman's terms – or as if they were five years old basically) to answer questions about your subject and establish yourself as a trustworthy redditor within that subject. You can use opportunities such as this to subtly promote your brand or product without being too intrusive. Remember, it only takes one person to leave a comment with a good reason not to like you and a dozen more will pick up on this and decide that they don't like you either.
Once you have the perfect subreddit to submit your own webpage to, the next challenge is to make it linkbait. The hardest work is the title. You really have to sell it to your peers, and sometimes the title can be more important than the content itself just by giving the content some context. A popular tactic for this is to use the link as the punchline. This is a popular method of getting clicks to your webpage because it's timeless. Even if everybody's aware of the tactic and everybody's seen it before, everybody still wants to know how it ends. And your website is the only place they're going to get the ending of your story. Whether at that point, you give them two words in H1 at the top or a single image above a lengthy article, it needs to deliver a punchline.

Never submit your link to Reddit if you're in a rush and have to get off the computer straight away. If your post takes off and spawns several discussions or debates, you want to be there. If people are taking the time to praise you or help you, you want to take the time for them. This is the best way to learn how to humanise your brand, by being there and responding as a human. And don't be afraid to be a little self-deprecating every once in a while too. In 2014, nobody really wants a squeaky clean and polished brand as much as they want real people they feel comfortable engaging with. Just don't lash out and get offended if you're not hearing what you want to hear. There have been far too many examples in the recent months of the damage that that can cause. Also, make sure to vary your submissions so you're not just submitting your own website again and again.
Can I advertise on Reddit?
You can, but remember exactly who it is that you're advertising to. Only advertise to a subreddit if you truly believe that you have something to offer the subreddit's users. The most popular way of advertising on Reddit is with sponsored links, which appear as regular posts but remain at the top of the subreddit's front page highlighted as being sponsored. As with regular posting to Reddit, users will be able to vote and comment on the ad, allowing you to gain feedback from the users viewing your ad or visiting your website. Not all of the feedback will be positive, or even helpful, but any feedback is good feedback as long as you continue to engage with those commenting by replying to as many as possible.
The ad copy you use depends on the subreddit you wish to advertise to. The same rules apply as when you are submitting a regular link (except with the benefits of immediately getting top position). You can target ads to what your target market is interested in when they are actively seeking it, and not generic demographics based on age and gender. You need to appeal to the users of the subreddit and use the kind of language that they tend to use, even if that means you have to lose your dignity with an overused meme and deliberately mis-spelt words. These ads all run at $0.75 CPM so you should choose wisely how you wish your ads to be seen and by whom.

Summary
Though achieving any success on Reddit requires a substantial amount of time and effort, when done right, the payoff can be tremendously rewarding. Like other social networks, it's all about promoting your brand through connecting with people. And for those with a gift for making human connections, hopefully you'll see it as not just a marketing tool but a valuable insight into the potentials of social community. There is so much more to be said for Reddit, but the only way to really get to grips with it is just to explore the website for yourself.

Kindly link back to this page if you wish to use the image above.
Image sources: reddit.com