Then in July of that year, the first image appeared on our computer screens. This history making image was of a promotional photo of Les Horribles Cernettes, a female parody pop group, comprised of the wives of CERN scientists, where Tim Berners-Lee (inventor of the internet) was working at the time. Nowadays the internet is something quite different. Awash with images, video and other interactive features its ironically reminiscent of ancient egypt; a place where people write on walls and worship cats. A place where images can speak much, much more than a thousand words.
Why images are so important to marketers
If you are in the business of website marketing, for whatever reason, then you will understand the importance that an image can command on the world wide web. Images are the most easily digestible form of data. With just one glance they can convey a message to the viewer in an instant, meaning you don't need a huge amount of concentration from your target audience to process the information you are trying to convey, unlike a blog post or newspaper article.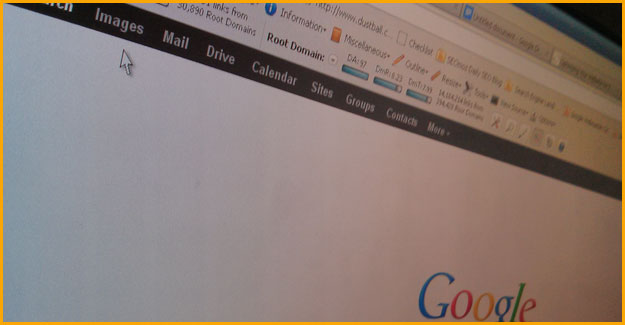 Along came Pinterest
Pinterest made an instant impact on the internet by bringing images to the forefront of sharing and virality. The number one social-bookmarking website is a simple idea, with easy-to-use functions that allow users to instantly save an image from any website across the internet within given folders on their Pinterest profile. This image then becomes available to all the users followers, who in turn can "re-pin" the image to their own profile, and so on. The fact that Pinterest is a bookmarking website means that the image must give a link back to the originating website, generating relevant traffic. There are many success stories online from websites that are generating more converting traffic from Pinterest than any other social media website currently available.
Did you know that image ALT text is what is commonly displayed as the description when a person uses the "pin-it" bookmarklet? Make the most of this function by adding a description that attracts clicks!
Infographics went viral
The next big image fad was infographics. Typically they consist of some form of useful (but more often than not useless) data presented in a graphical form, as the name suggests. Savvy SEOs immediately jumped on the bandwagon by distributing infographics in an embeddable form in order to build large amounts of links back to their website. However Google promptly released an algorithm update that deemed multiple uses of the same anchor text as spam, and the infographics boom has since died down.
Images and SEO
About a year ago we published a post that discusses how to optimise your website for image search. It is important to make sure that you follow these guidelines when adding images to your blog or website in order to rank for your keywords in Google image search too. It may not seem instantly obvious why you should worry about showing up higher in image results compared to standard web search results, but take a look at the screenshot below.
I received 70 impressions and 5 clicks last month on a search query that my website ranked an average position of 370. At first i was confused as to how this had happened but on further investigation discovered these clicks came through image search, of course i had given the image a keyword title and alt tag and being a snazzy graphic that i had created myself, meant it was unique and eye-catching to the searchers. So even though my post wasn't ranking high in search i still managed to gain clicks from 5 sources that would otherwise have never found my website.
How to search for a similar image using image search on Google
Another invention of the last few years has been the way we can search for similar images. Say you have an obscure logo and no way of finding out who it belongs to, this is where image technology really comes into its own. Simply drag and drop the image into the search bar of Google image search and….voila!
Give credit where credit is due
Remember that if searching the internet for images to use on your own website or blog you must ensure you use the advanced image search option and select the appropriate search by licence. It is important to give credit to the original creator of any artwork you use in order to avoid legal issues. There are many websites out there that can provide you with free images to use. Geograph is one of my favourites, but you can also find them in places like Flickr, or by searching for free image websites on Google. Websites like these will usually have a page dedicated to explaining how to reuse the images on the site without breaking copyright.
The future of images
Technology is progressing at an alarming rate, however its clear to see that Images will always have a large part to play in online marketing. As we move towards to the future its my prediction that video will become increasingly important. After all video is really just a moving image with or without audio attached, it commands the viewers attention, is easy to share and can convey personality far better than a written post. You only have to look towards the very people that head the search industry, such at Matt Cutts and SEOMoz to understand this to be true. If you have a company page for Facebook and Twitter, I strongly suggest that you claim your company YouTube page to start building an online video presence and get ahead of your competition.