This latest innovation from the 28-year-old billionaire will allow Facebook users to create searches within the platform to find out information about their friends and potentially even their friends' friends in an easy to read format that includes image and text results.
The media hype surrounding Graph Search has been more security conscious and parody based as users attempt to come to terms with this new feature and what it means for them and their "private data". But in the euphoria of this game changer and what it could mean for Google, Twitter and other competitors in the social and search arenas I am still dubious as to how accurate Facebook's new search feature is going to be.
What Do I Like?
It is clear that Facebook already provides suggested links and pages you may be interested in but the suggestion I received from them today is what prompts me to think that Graph Search could be inaccurate: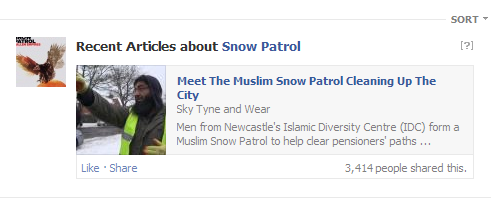 Of course the suggested result is completely unrelated to one of my favourite bands but it has picked the keyphrase "Snow Patrol" and taken an article that is trending on Facebook (judging by the 3,414 shares) and thought it would be relevant to my search. Its not to say that Google is 100% accurate either, however, when I search for Snow Patrol it does present me with the band at first, which is what I'd expect, and articles related to snow lower down the page.
To prove my point of inaccuracy, here's Scott Levy's documented experience with Graph Search: https://www.entrepreneur.com/article/225574.
In addition to this problem I'm aware that in the past I may have liked things 5 years ago when I first used the platform and now that I'm older and wiser *coughs* I may not like those things anymore so I could end up with friends, who I may not have spoken to for years, contacting me and asking if I'd be interested in going skateboarding on the weekend – I haven't ridden a board for years and was never that good at it.
Privacy Settings
You may now be considering going through your profile and un-liking pages, as I have been, for things you may no longer like but what if you've said something controversial in the past. Oh yes, Facebook are also going to include these in search results and images that you've been tagged in. Their policy is that this information is publicly available (depending on your privacy settings) and if you wouldn't say it on a stage in the middle of Trafalgar Square then you shouldn't say it on Facebook.
The only thing I can't figure out is how to undo what you've said on Facebook because for those of us who have said something at some point in time that we didn't mean might want to take it back. The danger is that this information could end up in search results you don't want to appear in.
If like me you've limited your privacy settings to just friends then only your friends will be able to search for specific information about you. If on the other hand you allow friends of friends to see your info then you might be slightly more open to outsiders retrieving search results that you're in. To resolve any worries you may have regarding privacy you just need to spend some time altering your privacy settings, which you can do so here: https://www.facebook.com/settings/?tab=privacy.
Facebook Graph Search Parodies
They say that in all jest there is some truth, which could be gleamed from these fun pokers of Facebook's new innovation:
http://actualfacebookgraphsearches.tumblr.com/
I agree they're quite funny and most likely something most users will end up doing with it when they have access at first but it does raise an eyebrow or two when you realise that you could be one of those results.
Thoughts?
So what are your thoughts on Facebook's Graph Search? Do you think you'll be reviewing your profile's content before you begin using it or will you be embracing it with open arms? If you'd like to be an early adopter of Graph Search you can sign up here: