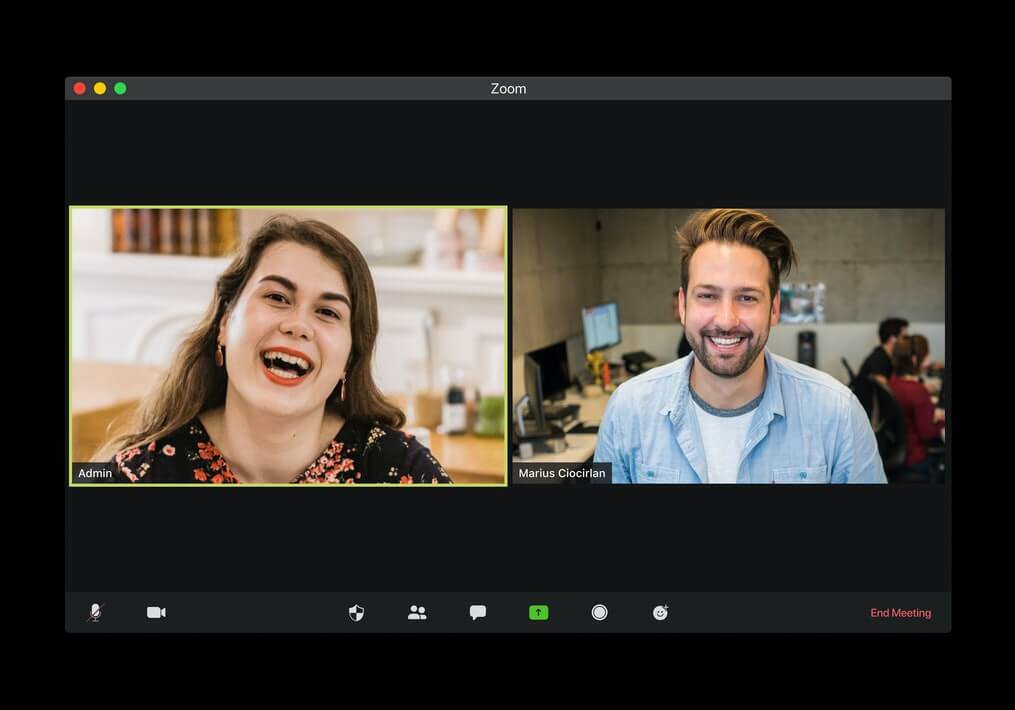 If there's one thing that this lockdown has taught us, it's how valuable a good video chat can be. Whether it's for a weekly round-up, a meeting or just a catch up when things are feeling a little bleak, video chat software has really come into its own in the past few months but there's been one name, in particular, that's dominated the headlines – Zoom. Despite being founded in 2011 and only becoming profitable in 2019, Zoom's popularity has skyrocketed as a result of the coronavirus pandemic, used by companies, business owners, students, teachers and even everyday users to be able to chat with their peers in the most face-to-face manner we're allowed right now.
However, this rise has caused other companies to step up their game and, as is typical of the search engine giant, Google has been no exception. With the news that Google is now offering their Meet feature for free during the pandemic and with usage over 25 times higher than before, just what is the platform and can it compete against not only Zoom, but other popular video conferencing software?
What is Google Meet?
Google Meet is Google's answer to video conferencing, claiming secure video meetings for businesses and their clients. It is designed to offer easy conferencing with the ability to join calls from Google's Calendar app, an email through a given link or through the Meet app on iOS or Android. The Enterprise edition of Meet also offers dial-in numbers so guests can join the call even if they're on the road or don't have access to WiFi or mobile data at the time.
The premise behind the software is, in theory, perfect for a huge number of companies in an even bigger variety of industries. There is no installation required or third-party services to enable dial-in, with everything hosted in the browser or the app depending on your preference. Until recently, however, Google Meet required monthly payments to access its full set of features through G Suite, with prices per month as follows:
G Suite Basic – £4.60 (25 meeting participants)
G Suite Business – £8.28 (50 meeting participants)
G Suite Enterprise – £20 (100 meeting participants)
In answer to Zoom's growing popularity, however, Google have now announced that Meet will be free for anyone to use, along with a number of new features.
Upcoming Features
Recently, Google has started to implement a handful of new features that are considerably similar to Zoom's interface. These include a gallery-like layout which will display up to 16 participants at any one time and better integration with Gmail which will allow users to join meetings directly from their emails. The features also include better video quality where possible, particularly for participants in lower lighting, and better audio in the way of improvements to background filtering.
Google has also been advertising their service as 'secure' as of late, and for one understandable reason – Zoom has recently been under fire for concerns around privacy and security. There have been cases of 'intruders' forcing their way into company meetings and group calls thanks to holes in Zoom's security and while the company are rapidly working to fix these issues as they appear, companies like Google have jumped on the opportunity to offer a more secure alternative. Whether Google's Meet is actually more secure is open for debate, but it could be their leg up above the competition.
So How Successful Is Zoom?
As we've mentioned already, Zoom has seen quite possibly the biggest growth of all video conferencing apps during this crisis. In fact, it hosts over 300 million daily meeting participants, which is a huge leap from just 10 million in December of last year and is home to not only businesses but schools and even the UK cabinet. While it's been known for its video conferencing in particular, Zoom as a company also offers a phone system, video webinar hosting, classrooms and a number of apps and bots that you can use within the system itself.
What has really caught people's attention, however, is the ability to add virtual backgrounds and the 'touch up my appearance' feature which can have you looking meeting-ready even if you've just rolled out of bed. Its natural growth has also meant that a lot of businesses and clients will have made accounts, making for an easy call experience. It's important to note that Zoom does have a 40 minute limit on calls, however, this has been lifted for schools affected by the virus.
The main issue that's reared its head, however, has been 'Zoombombing', which is the act of joining calls you aren't invited to using generated ID access codes. Zoom allows users who don't have a Zoom account to access the calls and conferences, which makes it relatively simple to join any call if you can get hold of the Zoom ID. Passwords have been available since 2019 to avoid this but with the sheer number of calls taking place that don't have passwords, the problem is more prominent than ever.
It's this security concern that has caused competitors to start pushing a more secure alternative to Zoom and in a time where security is vital, it could be the selling point that helps Google's Meet flourish.
What About The Other Competitors?
Despite the popularity of Zoom and Google's existing prowess, there are other competitors on the market that could give Meet a run for its money with some standing a better chance than others. If you're looking for a conferencing platform, it might also be worth checking out:
Skype is practically a household name and has been for years and for smaller businesses, is a go-to for group video chat. With an IM chat system to keep in touch when you don't feel like embarking on a video chat and the ability to just do voice calls with particular colleagues, it can act as an all-rounder with full communication capability. Skype has been known for spotty connection and poor video quality in the past, but can still hold it's own against competitors.
For Skype users wanting a business-ready alternative, Microsoft's Teams is the newcomer that replaced Skype for Business. Just like Skype's standard system, it combines instant messaging, video conferences and calls for a seamless communication system, but also introduces document collaboration to make for easy teamwork. Teams also claims security and privacy are "never an afterthought" and instead, a commitment by Microsoft within their system.
Despite being designed with gamers in mind, Discord is another integrated system that offers instant messaging, voice calls, video group chats and even streaming. For creative businesses or those with smaller, more casual teams, Discord could provide a useful platform for all colleagues to get involved with. It's not the best fit for all businesses, but the community spirit and gaming-focused features can make it perfect for any company within the gaming or entertainment industries.
Google aren't the only company to be introducing something new in light of Zoom's popularity – Facebook has, as it usually does, jumped on the bandwagon. Messenger Rooms has been created with group video chats in mind and while it isn't business-focused, can offer an alternative to Zoom or Google's Meet for up to 50 participants. Participants don't have to have a Facebook account to join and anyone can be invited to join at any point. Their USP is portrayed as being the ability to just 'drop by' into one of the 'Rooms' for the chat, without any pressure to be there when the call starts and without any time limit.
Will Google's Meet Hold It's Own?
Whether Google's Meet will be successful during this pandemic or not is difficult to predict. Even with the service becoming free now, it may not stay that way as the world begins to recover from Covid-19 and it's safe to say that the search engine hasn't had the most successful track record with social media.
Google Wave launched in 2009, lasting only a year before it was replaced by Google Buzz in 2010, which didn't last particularly long either. Both platforms were Google's first approach to creating a social media platform akin to Facebook that they hoped would overtake the then-growing platform and put them at the top. They had the same features at the time, including sharing posts privately or publicly and had a huge list of integration partners including Twitter, YouTube and Flickr. However, both proved to be more complicated than initially planned and with a host of privacy issues to boot, both were shut down.
What followed was Google Plus. While it wasn't primarily created as a social media platform and instead, as an 'identity service', it ended up holding much of the same functions as Wave and Buzz. The initial growth was promising, reaching 10 million sign-ups within just two weeks of launch and 25 million within a month. The downfall, however, came with Google Plus' lack of control both over privacy and spam and gradually dropping usage and engagement levels. A data leak in 2015 revealed that of the over 90 million users it had registered, most never spent more than 5 seconds on the platform. These design and software flaws ultimately led to the platform shutting down on April 2nd 2019 for all consumer activity, though a business version is still available as Google Currents through the G Suite.
With a track record of failed social media platforms, the promise for Meet to hold its own as a social conferencing solution really is a matter of waiting to see how things pan out.