Since it's global launch in 2017, TikTok has proven itself to be a force to be reckoned with. With over 800 million active users, this app sits 7th in the global user statistics for social media, falling behind only Facebook, YouTube, Whatsapp, WeChat, Instagram and Facebook's Messenger. It has well and truly overtaken Snapchat (382m), Twitter (340m) and Pinterest (322m) as one of the world's most popular and actively used apps and if that tells us anything, it's that TikTok has a lot of potential for businesses.
How TikTok Started
TikTok as we know it came to be in 2017, when it's predecessor, Musical.ly, merged with the Chinese alternative, Douyin. Musical.ly first came about in 2014 and for the most part, was almost identical in operation to how TikTok is today. Users could create short videos of themselves lipsyncing to sound clips and despite a simple premise, gained over 90 million users in just two years.
In 2017, however, a Chinese internet technology company acquired Musical.ly and in a bold move, merged it with Douyin, the China-based alternative. The merger saw Musical.ly absorbed into the new app, with all existing accounts migrating across to TikTok, while Douyin still exists and is hosted separately in order to adhere to Chinese media regulations. TikTok, however, has gone on to gain incredible popularity, particularly amongst younger generations and has become a powerhouse for businesses looking to capture the attention of the masses.
How TikTok Became Popular
TikTok's entire premise upon release was short 15-second clips involving music and lip-syncing. It's since grown into a weird and wacky video platform featuring the very same short-clip style, but with an almost Vine-like quality. There are currently over 800 million active users on TikTok, with 1.5 billion reported app downloads across the board (and counting), making it one of the fastest-growing and most popular apps around today. For comparison, Facebook grew from 1 million users in 2004, to 845 m in 2011, which was considerably slower than TikTok's two-year surge.
Source: https://www.statista.com/chart/870/facebooks-user-growth-since-2004/
Since the merger in 2017, TikTok took Musical.ly's capabilities to a next level, offering good quality lipsyncing videos to both songs and other audio clips, accompanied by filters, easy editing tricks and ongoing challenges. There is no single reason as to why TikTok has grown in popularity so quickly compared to its predecessor, but it's often put down to both high quality but short-form content and the unique algorithm designed to keep users coming back.
Short-Form Content Encourages Engagement
Short-form video content has some of the highest engagement of all content forms, with 50% of users watching clips of 90 seconds or under to completion. Longer videos, particularly those that are 30 minutes or more, see a lower completion rate of as little as 10%, possibly due to the lower attention spans that consumers have today; The average user online has an attention span of around 8 seconds, particularly those in younger generations. Generation Z specifically seems drawn to TikTok's short video format, with 41% of total TikTok users, both viewers and creators, aged 16-24.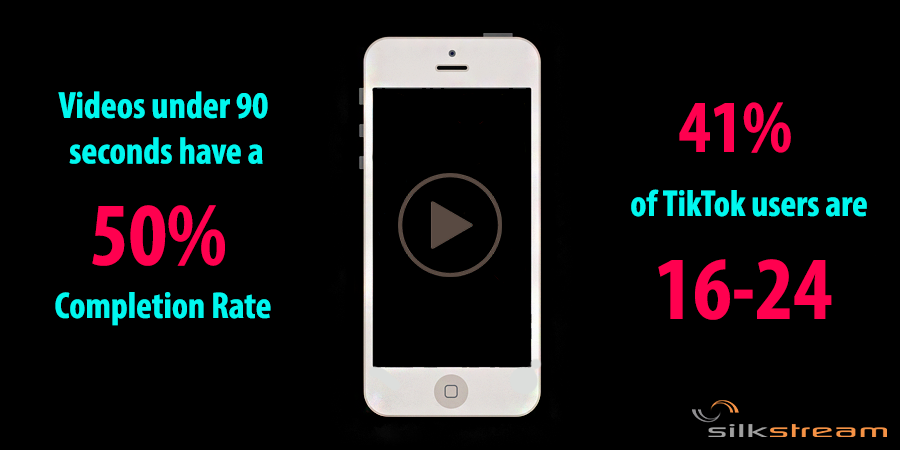 How TikTok's Algorithm Works
TikTok's algorithm, as with most social media platforms, is designed to provide content that it's users want to see in order to offer a more personalised experience that, in turn, keeps them coming back for more. As with most social media algorithms, TikTok's is based on machine learning. It will evaluate the quality and potential popularity of any one video that's uploaded and put it out into the world according to these findings. The actual specifications for the algorithm haven't been published, but in general, there is some agreement as to how videos are processed.
For example, when videos are uploaded to TikTok, it'll be shown to a select number of users in between proven-popular videos to ensure that the user doesn't get bored, and provides an opportunity for the app to measure its popularity. This is done in terms of likes, comments, shares and downloads, with the general ratio seeming to be 1 like for every 10 views for the algorithm to deem it popular and increase it's visibility.
Can TikTok Be Used For Business?
Since it's release, brands and businesses have been building up a presence on TikTok both through accounts and through advertising. TikTok provides a platform for any brand to capture younger audiences, with 9 out of 10 users using the app more than once a day and a 52.1% engagement rate. This kind of user behaviour can increase a brand's chance of being seen and promote loyalty and relationships between customers and businesses.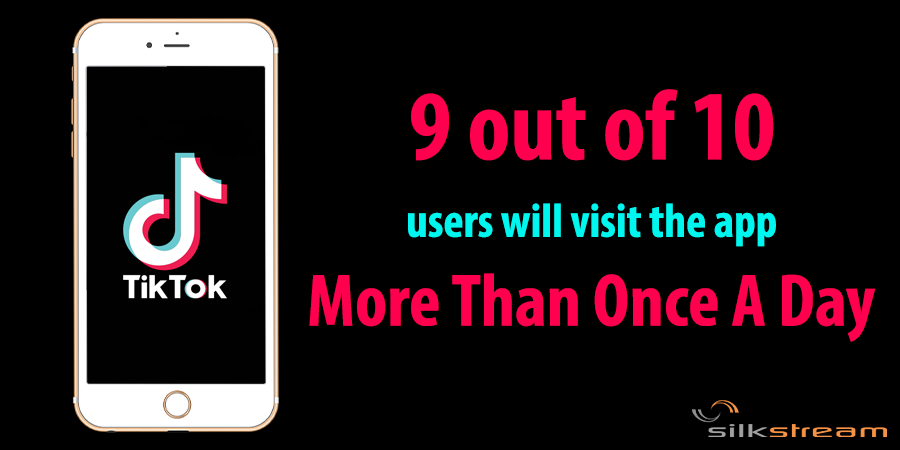 Different brands are approaching TikTok in different ways, however, with some of the most popular doing the following:
American fast-food chain, Chipotle, have taken to TikTok like a duck to water, with over 40 videos currently available on their profile. They offer unique but consistent videos, including their 'Boorito' and 'Guac Mode' campaigns that offer discounts or free products for interacting with the brand either online or in the restaurant. Some of their most popular clips feature popular music clips, including the 'Quesadilla' parody of Shawn Mendes and Camila Cabello's Senorita, which has had over 2.2million views: 
Another surprisingly popular video is their insight into how their famous guacamole is made, which has over 3.1 million views.
If there's one thing that TikTok has in abundance, it's challenge videos and animals, and who doesn't love videos of animals? San Diego Zoo have jumped on the TikTok bandwagon, with their video gallery consisting of 33 videos (at time of writing) featuring crowd favourites, including penguins, cheetahs, meerkats, giraffes, baby elephants, monkeys and more. Some of their most successful videos have been posted in the past few months, with their 'Best Friends Check' featuring Ruuza the cheetah and Raina the ridgeback claiming over 2.7 million views
Another popular video, with 1.3 million views, features Taylor the Amazon parrot, singing and speaking to his keeper. Captioned with "Quarantine Day 2: Taylor the Amazon parrot is polishing his vocals" this clip was made with entertaining the masses during the COVID-19 lockdown.
The video that has really stolen the limelight, however, is a clip featuring their hippo Otis, which uses the popular 'Cute Doggies Only' audio clip that has been used on over 156.7 thousand videos. San Diego Zoo's clip has over 38.9 million views.
Burger King has more than one TikTok account and Burger King UK is just one show of how they're taking on this unique social platform. As with most businesses, their better-performing videos tend to be those that utilise popular audio clips or that take on TikTok's challenges, including the 'Plank Challenge'. The key thing to note, however, is that Burger King takes these challenges one step further and incorporates it's own brand or products within the challenge. Their take on the aforementioned Plank Challenge sees two people lowering down to pick up one of Burger King's new Chicken Fries with their teeth, bringing a bit of branded fun into this TikTok trend.
Boohoo, an online clothing retailer, are using TikTok to capture engagement from an audience who just so happen to match that of their clothing. Many of their posts centre around TikTok's many challenges, particularly dance challenges and usually attract anything between 5000 – 10,000 views. Some videos, however, skyrocket higher, including this video featuring user @lianev putting together a dance challenge for Drake's new song, Tootsie Slide, that got a whopping 48.1 thousand views. This challenge plays homage to the previous trend to Drake's song In My Feelings, which saw users jumping out of a slow-moving car to dance.
The trick to capturing user attention and securing a spot on the coveted 'For You' page is, understandably, producing content that users want to see. This includes trying your hand at challenges, making up your own to produce engagement or even just offering something unique that is likely to encourage interest amongst TikTok's audience. Keeping an eye on trends and what appears on your own For You page can help you determine the best routes to follow.
How TikTok Ads Work
TikTok's advertising opportunities are relatively new and for that reason, it can be difficult to determine whether it's right for your business. While an ad on TikTok does offer you access to a vast number of people, the audience can be very specific and for this reason, not every business is going to benefit from advertising on this platform. If your business is tailored to younger audiences, particularly those under 30, you could see some return on an advertisement, while anyone with an older audience may not deem an ad worthwhile.
It's also worth noting that businesses with smaller budgets might not be able to afford TikTok advertisements currently. While TikTok does have substantial advertising opportunities, this is currently a platform in which big companies like Nike, Disney, GrubHub and Apple Music are battling for the top spot and costs start at a minimum investment of around $500, which may not be suitable for smaller businesses. If you're considering using TikTok ads, you'll first need to leave your details on the TikTok Ads page, after which they will get in touch to discuss your options, including a budget.
TikTok offers plenty of opportunities for businesses to capture an already captive audience if they can produce the right content on the platform. From keeping up with challenges and trends to producing unique content that is sure to encourage engagement, making it to the 'For You' page and right in front of a prospective audience can be simple.
For more information about Social Media management or how to understand your audience better before embarking on a TikTok campaign, feel free to get in touch with a member of our team, today.