Once upon a time, paid advertising was limited to the broadsheets in the back of the newspapers, in later years this included on-air radio and television advertising. Fast forward to today and paid advertising is everywhere, with paid advertising on the internet taking up a prominent place – through the various social media channels we all utilise on a daily basis.
Social Media advertising is seen as the most modern kind of advertising, the sort of advertising that marketers would be foolish not to use to target, in particular, millennials and those of "Generation Z". We regularly see this advertising on a regular basis, most commonly served up to us through promoted posts – sponsored photos & promoted tweets – and for a good reason too, it is the perfect device for lead generation, customer acquisition and brand awareness.
With many different platforms offering paid advertising on their services, this article will focus on the major three – Twitter, Facebook and Instagram.
---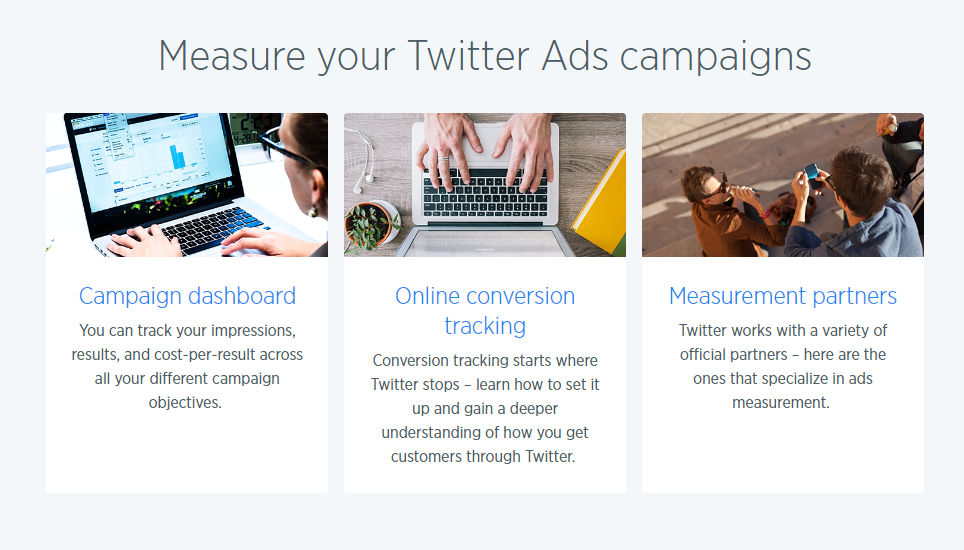 Twitter Advertising
The different campaigns for driving engagement and performance with Twitter are wide, from a campaign to grow your Twitter following to gathering leads directly from Tweets.
Engagement Campaigns:
Followers – Growing your Twitter following campaign
This campaign is used for growing your audience on Twitter or promoting your account. With more of an audience, you'll have more eyes on the content you release through your Twitter account. This form of advertising works through bidding in a price auction against other advertisers, you only pay for the followers you gain, however.
Tweet engagements – Get more people talking about your business campaign
When you have tweets you really want more people to see, that may promote a new product or store that you own, then the tweet engagement campaign is the best one for the job. This works by you writing out a tweet, that can include media content if preferred. This tweet will then be promoted to an audience you choose to target and you only pay when your content is engaged with (through clicks into the tweet, profile clicks, retweets etc). Any impressions (or tweet views from someone browsing) is free.
Video views – Get more people to watch your videos
If you have a video you want to be seen by a wider, targeted audience you can create a campaign that will see auto-playing videos as users scroll down their Twitter feed, encouraging interaction with the video. With this campaign, you pay for the number of views that you attract on the video and can be used to promote both videos, GIFs and Vines (which is soon to be defunct).
Awareness – Maximize brand awareness
Pushing out a message to an audience can be both worthwhile and intelligent from a marketing perspective, not only will it increase brand awareness but will make your brand seem more trustworthy and professional if done correctly. With the Twitter awareness campaign, you pay for the number of impressions (CPM) and it is to be used to push a message out to as many people as possible of a targeted designated audience.
Campaigns for driving performance:
Website clicks or conversions – Get more visits on your website
Website clicks and conversions are the key analytical data that many of us focus on and hope to increase with our marketing campaigns. With this campaign on Twitter, you promote a tweet to people who will likely visit and take action on your website. You're able to track the results of this across both mobile and web and you only pay for the number of website link clicks. This method of advertising can also be used in an attempt to gain conversions such as downloads and purchases in a store.
App installs or re-engagements – Get more app installs and re-engagements
Dedicated towards mobile advertising, this app install and re-engagement campaign can attract users to downloading or opening a mobile app directly from a tweet. Using intelligent data, you'll only pay for the number of app installs you receive.
Lead generation – Gather leads from Tweets
This campaign utilises Twitter Cards and is used for those who wish to collect emails from people who express an interest in what you have to offer. Users are able to input their email into a form in a Lead Generation Card, the emails of which will be sent to you to follow up with them later. You pay for the number of leads gathered, this can be an efficient and fast way to grow your email lists.
---

Facebook Advertising
Facebook advertising works by having a whole array of different advertising services that digital marketers can utilise to succeed to help assist in solving various objectives they may have for a client or an organisation.
Objective campaigns:
Facebook App Engagement campaigns come as two different campaigns, one features specifically on mobile whilst the other targets desktop. Both these campaigns work to achieve more activity on your mobile app. Targeted users see adverts delivered as banners and sponsored posts that has a button suggesting the user should use the app. Both video and photo can be used in these ads.
Although very similar to Facebook's app engagement campaign, this works on getting users to install the application to their device, showing the app's star rating from the App Store on your advert automatically.
Whether you have an image, video, image canvas for an immersive mobile experience or carousel of images you wish to use to promote your business through this awareness campaign, this marketing method is your best bet in attracting attention.
Got a page on your website or a campaign you wish people to click onto your website to explore? This campaign is for you. Using a Facebook info card, users can see an image that can be pulled straight from your website, along with a title and a small description of what the campaign is promoting. They can then click anywhere on this image or text to be sent straight to the page you've designated as the landing page.
Event responses are pushed to a targeted audience in an attempt to increase the numbers of people attending an event. This advertisement is good if you require a method of getting the attention of a particular group of people who may be interested in attending an event you're hosting. This type of advertisement is well connected into the Facebook infrastructure, as you're able to confirm if you're interested or going via a button that appears on the ad, displaying to all your friends on Facebook of this event that you're set to attend and to the events host themselves.
If you're looking to collect information from those who already have an interest in your products, the lead generation campaign will be best for you. Featuring a button that can be clicked by your target audience to sign up to your site if they most fancy, you're certain to get replies solely from those with a genuine interest in what you have to offer. These ads allow you to write up a status, ad title and ad description, with a generous amount of space to express yourself.
If you're a store, a restaurant or a market trader – your most important aspect will be reaching out to people to bring them to your place of sale. With this ad, you can simply connect with your local audience, finding those new customers that frequent past your business' street. With the target audience chosen, you're able to add local content to your ad to make it more relevant through this advert format, featuring a map pin for your businesses location, additional info and the businesses hours of operation.
Creating limited time offers and discounts whilst targeting this to a specific audience can encourage people to make a purchase, as users rush to obtain the offer that awaits them. Connecting with both new and existing customers and sending out automatic reminders when a deal is about to expire, these offer claims can use a barcode, discount code or QR code which can be easily claimed through their mobile device.
With a page likes campaign, you're able to advertise on both the desktop or mobile news feed, or the right column tab of the Facebook desktop page. You can modify your ad by adding an appropriate image, a headline, description and the section of your Facebook page you want people to go to when they click on the ad. With a perfect ad, all you'd need to do is choose the audience you want to reach by variables such as age, gender, interests, location and more and you'd be ready to go. Users will see your ad with a "Like" button implemented inside it.
Page Post Engagement campaigns work with all the different types of media options you can post on Facebook – photo, text and canvas. An engagement campaign like this is used to boost a post – for likes, comments, shares and photo views (if applicable). Like any other Facebook advert, you can choose the audience that best suits you by their location, age, gender, interests and more.
Video adverts can be effective and efficient in attracting interactions and are a superb way in opening an avenue for people to learn more about your business or product. You can choose the target audience you wish to reach with your video, and capture attention quickly with automatic playing videos.
Conversions are everything for an advertiser, the ultimate piece of analytical data that we all strive to increase for success in our marketing ventures. Conversions can be anything from getting a user to sign up to a newsletter, specific actions on a site or buy a product.
---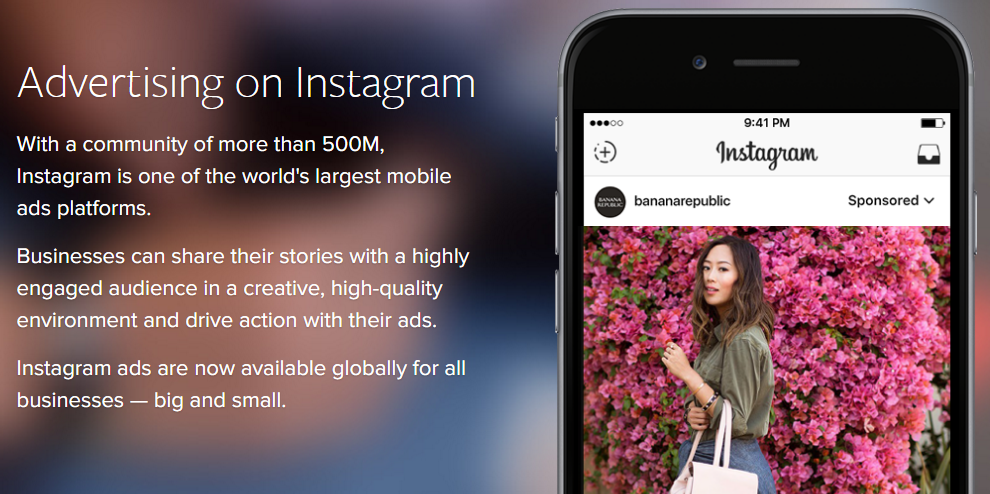 Instagram Advertising
Instagram is quite limited in the format it can offer to advertisers to feature themselves on, keeping to the regular photo and description template, with a Sponsored tag beside it. However, it does have the tools to help advertisers solve various objectives. These objectives consist of:
A campaign to send targeted audiences of people to areas and pages of your website.
Whether it's an enquiry sent through a form, an area of your website you want users to explore or an online purchase – these are all examples of conversions or actions that you can focus on getting people to take on your website with this ad.
Increase the mobile app installs by targeting the correct audience best for your app.
You might already have many downloads on your app, but not many active users using the app as much as you'd like. The mobile app engagement ad is the best for this, a subtle reminder to users that they have the app installed.
Media content such as videos are wildly popular on social platforms, with a video views campaign you can push your video out to a wider audience than you could through your followers.
Increase the reach that your posts are getting out to, with a control on the targeted audience of whom you want to be the receiver of these posts.
Engagement, such as likes, comments and clicks bring interest to a profile and can attract people to stick around and follow your profile if they like the page posts they've interacted with.
Increase the potential in the eyes on your site or created content.
Bring in people who frequent your area into your store or premises, making them aware that your location exists – and it is nearby.
---
Whether you decide upon using social media advertising, or prefer to stick with other forms of digital advertising and marketing, it is undoubtedly that social media platforms offer a wide range of tools to assist in validating various objectives that we might have for our campaigns.