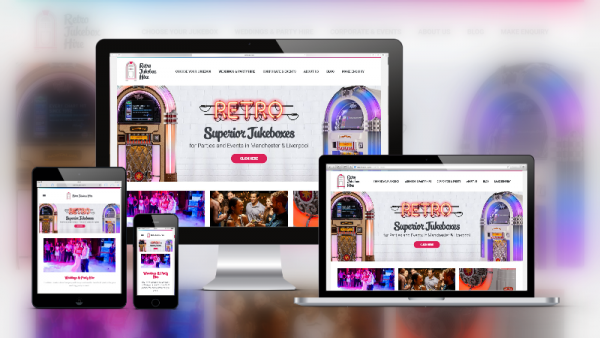 We were recently asked to design and build a website for the Retro Jukebox Hire Company, having worked previously with the partner company Amusement Leisure. The website needed to have a contemporary feel but with that fun twist to match their brand.
The Retro Jukebox Hire Company hire out retro jukeboxes for special events and occasions, having provided jukeboxes for the likes of BBC, Smooth FM, Manchester UFC and more. The digital jukeboxes include over 30,000 songs pre-installed (including every UK Top 30 hit since 1959) with search facilities to help event guests, party guests and wedding guests quickly find the song they want by title, artist or even release date. But additional songs can be included in the jukebox for party planners and wedding planners who have specific unlisted songs in mind, including their own tracks or karaoke versions of songs!
The Homepage Design
(Click image to expand homepage design:)

The large above-the-fold banner on the homepage is designed to look bright and clean, leaving a great first-impression to the visitor. Beneath this, users can click to learn more about the different kinds of events that Retro Jukebox Hire can supply jukeboxes for, or choose the jukebox design that they're interested in for their event.
Landing Page Design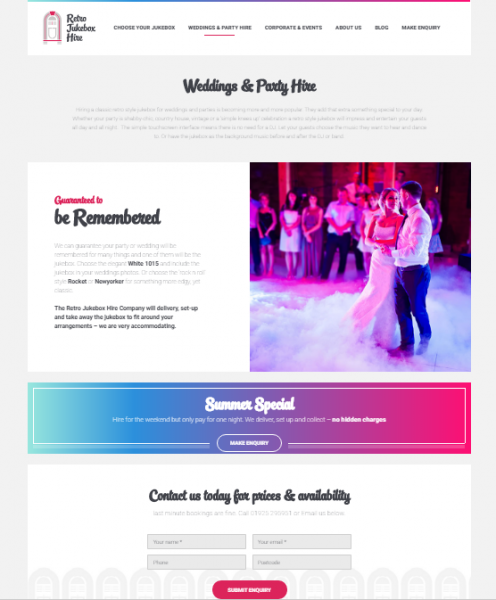 Landing pages feature a large image and plenty of room for content, as well as a discount banner and enquiry form beneath.
Products Page Design
The "Choose Your Jukebox" page includes all of the available jukeboxes for hire on a single page, to make comparison easier for the user. Each jukebox has a section for the description as well as pricing and "Contact Us" button. The column to the right of the large image contains thumbnails to more images which the user can click on: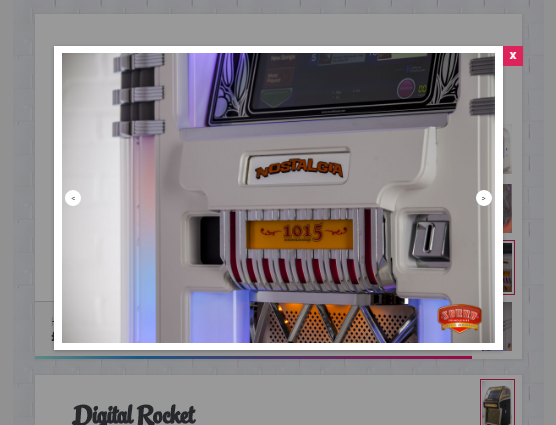 This brings up the image in a modal, dimming the background allowing the user to get a better look of the jukebox up close.
Blog Design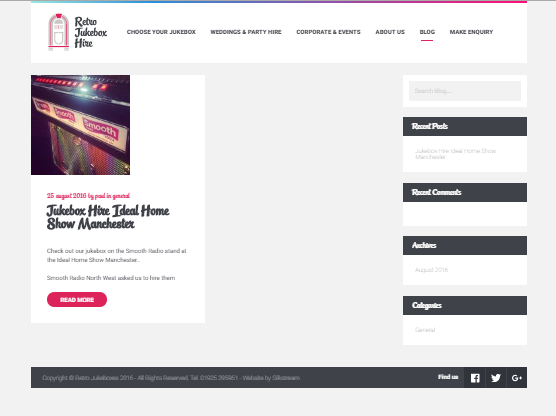 The blog's a little empty right now. But you can see how blog posts will be displayed in a grid with a sidebar. The blog itself is built on WordPress, so that Retro Jukebox Hire's bloggers can have WordPress accounts separate to the admin accounts for the managing of the website.
Contact Page Design

The contact form is simple, and is the same one that appears on the landing pages. Potential customers can quickly leave their name and contact details to receive a response regarding pricing and availability.
And obviously it's responsive too…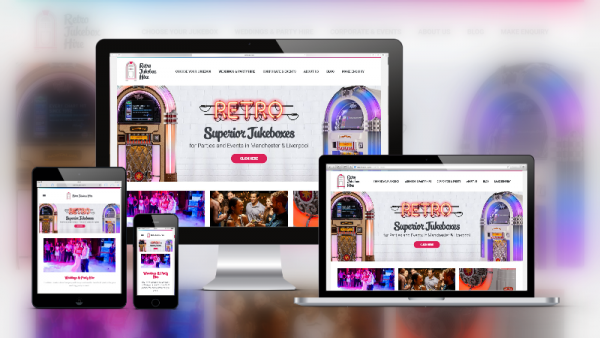 Now that mobile-friendliness is an important factor for ranking well in Google Mobile, having a mobile-friendly website is crucial if you want to be found on Google by mobile users (and will deliver your potential customers a significantly better user experience whilst browsing your website). And, thanks to responsive web design, Retro Jukebox Hire's website is 100% responsive and mobile-friendly!
So, whether their users are browsing the website from a smartphone, tablet or desktop computer, they can do so with ease. No pinching and swiping to find what they're looking for! No matter what size their screen, Retro Jukebox Hire's website will automatically adjust to fit the screen size, moving elements around to ensure that the design looks fantastic on any device.
Contact us to talk about your website!