The last time we were asked to design Frances Hunt's website was back in 2010. Web design has come a long way since then, and their ecommerce website just wasn't cutting it anymore in comparison to the big competitors. So we were asked to design and build a new mobile-friendly ecommerce website for them!
What is Frances Hunt?
Stocking thousands of quality home furniture products, Frances Hunt sell bedroom furniture, living room furniture, dining room furniture and children's furniture and provide a range of specialist services including special size manufacturing, white glove service, furniture assembly and even furniture disposal.
The New Homepage Design
(Click image to expand to full-size)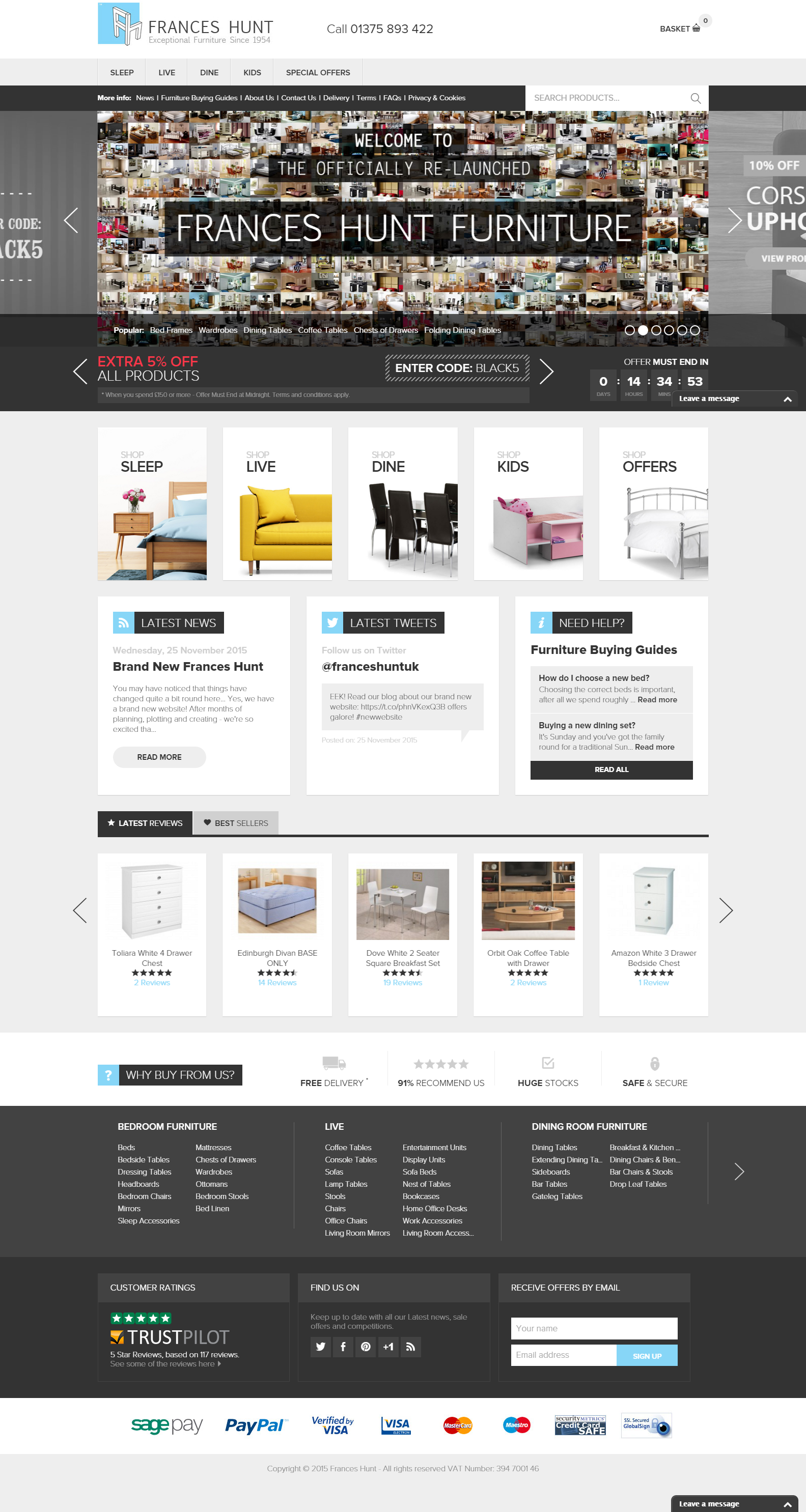 The new homepage features a large full-width slider, promoting Frances Hunt's exclusive product offers and sales, with a real-time countdown display of when their latest special offer runs out. Beneath the slider, are five tiles displaying Frances Hunt's main product categories: Sleep, Live, Dine, Kids and Offers.
The latest post published on their blog, as well as their most recent Tweet and a sample of their Furniture Buying Guides is there for those who are looking to browse or for more information on furniture or the company themselves.
Another slider beneath, above the footer, automatically shows the latest product reviews with a tab to view the current best sellers instead.

The menu at the top, when you hover over a category, shows a dropdown menu of the subcategories, for quick browsing and easy navigation. Customers can also browse through the most popular ranges within a category.
The New Category Design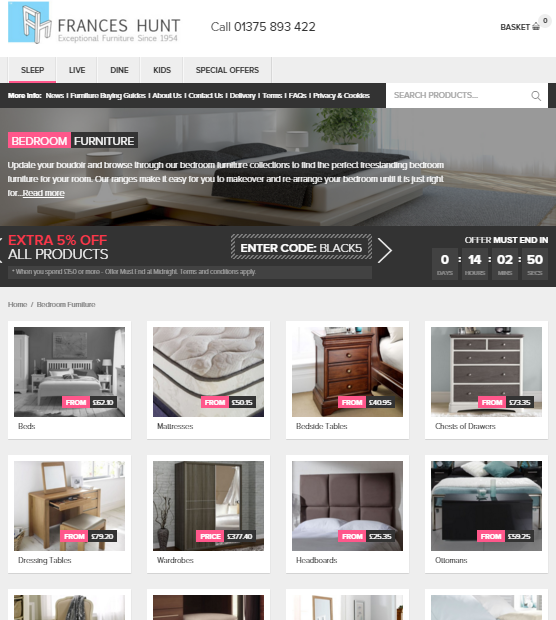 Clicking on one of the main categories in the navigation menu displays the subcategories within it in an attractive layout that's easy to browse, displaying the starting price of the products within that subcategory.
The New Sub-Category Design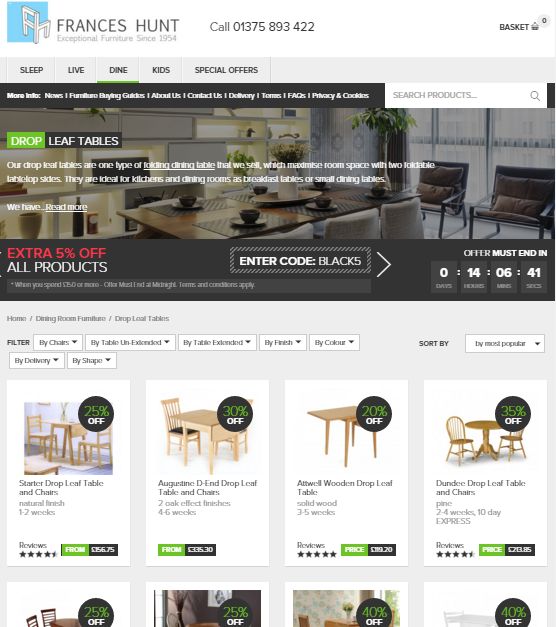 Clicking onto a subcategory, for example the Drop Leaf Table category shown above, displays the products within the subcategory in a catalogue-like layout with special offer bubbles, the star rating based on that particular product's customer reviews, price, as well as any product options such as size or finishes.
Frances Hunt's customers are able to sort the furniture products "by most popular", "by price: low to high" and "by price: high to low". You can also use filters on the page, to specify the type of product they are looking for within that subcategory. For example, by size, type, finish, colour, and more.
A "lazy loader" means that, when scrolling, the user will not have to click to get to the next page. Instead, the second page of products will load in beneath the first. The more you scroll, the more products load onto the page! This is a brilliant feature for mobile users who have been shown to prefer scrolling through a single page than repeatedly clicking through and having to wait for a whole other page to load.
The New Product Page Design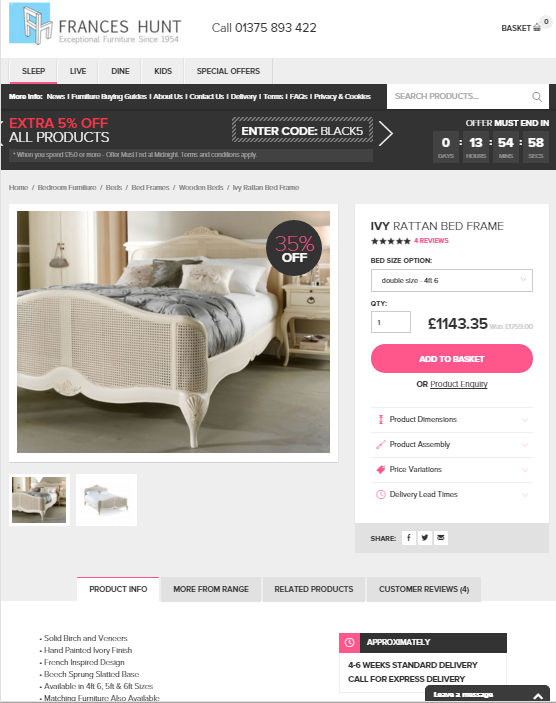 The new product page shows a large photo of the product and, when the customer hovers over any part of the image it will smoothly zoom into that spot allowing the customer to inspect any details of the product with ease. Multiple photos can be uploaded to each product, and will display in thumbnails below the featured image. When a thumbnail is clicked, the thumbnail will be shown in place of the featured image and allow the customer to inspect closer as before.
Next to the product image, customers can select from any product options before adding to their basket. When you click on any of the Product Dimensions, Product Assembly, Price Variations or Delivery Lead Times buttons, the section will expand below the button to show the information.
Users can even share the product page on Facebook, Twitter or via Email!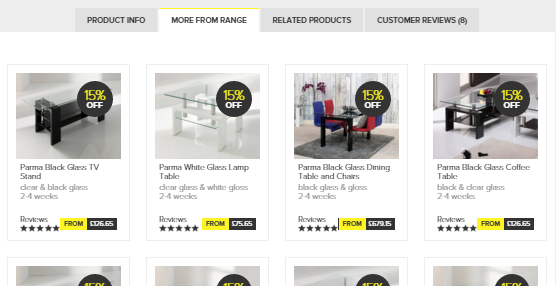 In the full-width section beneath the image, there are tabs which the customer can click to view Product Info, More From Range, Related Products or Customer Reviews. This means that customers can get all the information they need before they decide to purchase, or even browse for similar products that they may be interested in or other furniture products within the range to complete the whole set!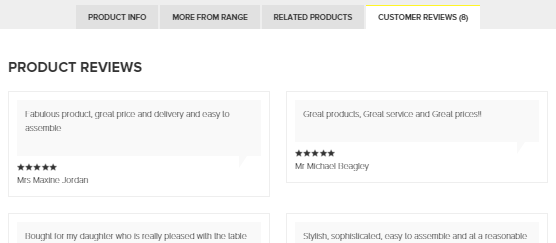 The Customer Reviews tab gives the customer an idea of what to expect from the product and Frances Hunt's service as a whole, and can get piece of mind from the product's positive feedback from previous real life customers.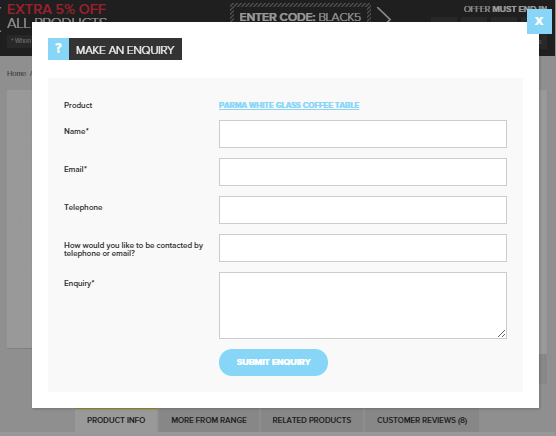 If the customer is looking for specific information that is not listed on the product page, they can click on Make An Enquiry and a box will pop up where they can send a message directly to Frances Hunt's customer service team. If they are looking for a more immediate response, the Leave A Message button pinned at the bottom of the screen is display on every page of the website, allowing customers to quickly speak with a live chat advisor at Frances Hunt in regards to any products or other queries.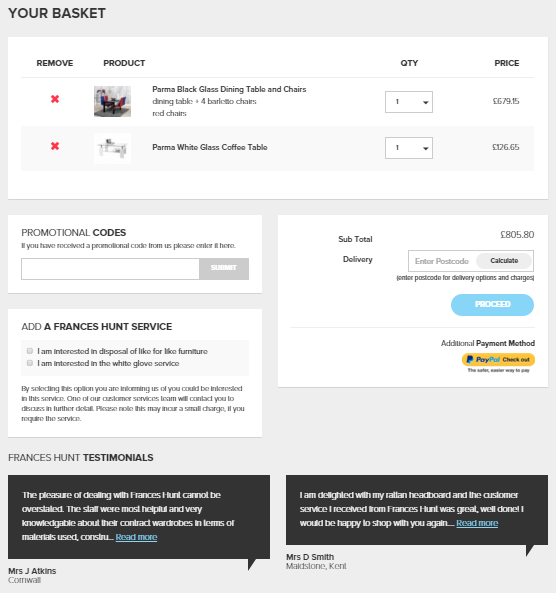 Once customers are happy with the products in their shopping basket, they can go to Basket and review their order. Any promotional codes, delivery calculations or additional services can be entered on the basket page before the customer proceeds. Customer testimonials are displayed below to ease the potential customer even more into completing their purchase.
The New Blog Design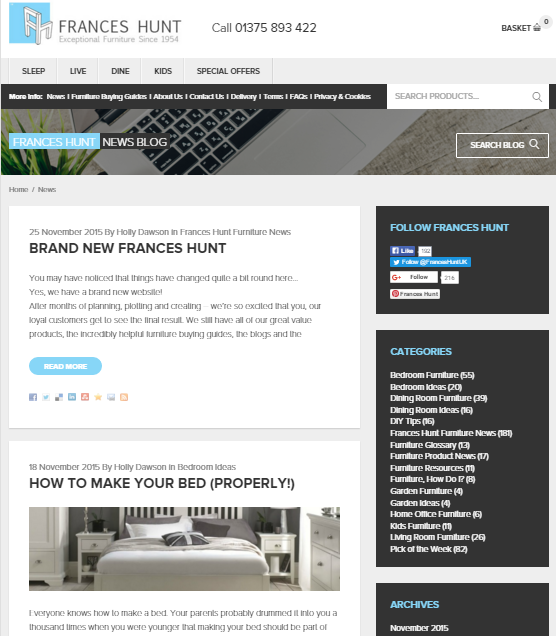 Frances Hunt's blog is regularly updated, and a new design was of course in order to reflect the new website. Frances Hunt's blog uses the WordPress CMS (unlike the rest of the ecommerce website, which is powered by Silkstream's own proprietary CMS and tailored to suit our clients' own specifications), making blogging easy and allowing their bloggers separate access rights to the main ecommerce system.
Other Pages…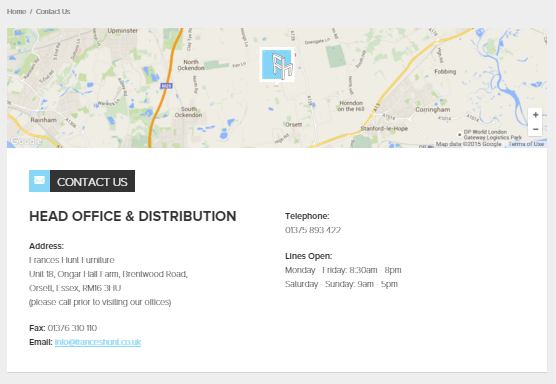 Many other pages exist on Frances Hunt in addition to the product catalogues and blog, including their About Us, Furniture Buying Guides, FAQ, Delivery, Terms, Privacy & Cookies, and Contact Us page. And many more can be added from the back-end system with ease.
And it's all Mobile-Friendly!
Now that mobile-friendliness is considered a ranking factor for Google, having a mobile-friendly website is a big deal for SEO. And, thanks to responsive web design, we have built Frances Hunt's new website to be 100% responsive! Now, whether they're using a smartphone, tablet or desktop computer, customers can browse and shop with ease – without having to pinch and swipe all over the place to find what they're looking for! No matter what size the screen, Frances Hunt's new website will automatically resize and move bits around to look its best on anything.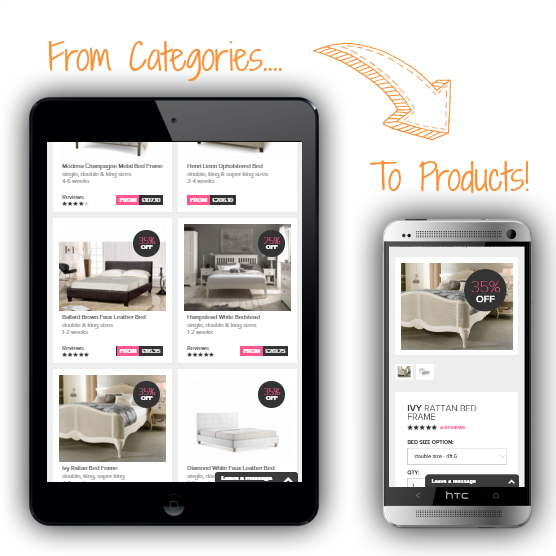 Contact us to talk about your website!