Google+ Local appears to be an advanced version of the well-known "Google Places" which according to Greg Finn of Marketing Land will be phased out and replaced by this new development. As a supporter of local small businesses I can see how those that utilise the features of this app could drum up new business and benefit from local search results.
What Does It Do?
It appears that Google's general philosophy surrounding the launch of the new app is that they want to provide users searching for local businesses with a better experience through informed decisions based on a combination of Google+ user submitted reviews and Zagat scores. Zagat is "the world's leading provider of consumer survey-based information for restaurants and other leisure activities".
Avni Shah, Director of Product Management at Google wrote: "Google+ Local helps people like my husband turn a craving—"Wow, I need brunch"—into an afternoon outing: "Perfect, there's a dim sum place with great reviews just two blocks from here."

What's The Difference Between Google+ Local and Google Places?
The two most significant differences are the addition of Zagat scores for businesses in local search results and the integration of Google+, allowing users to see who, in their circles, have rated or been to a business from local search results, as a form or recommendation.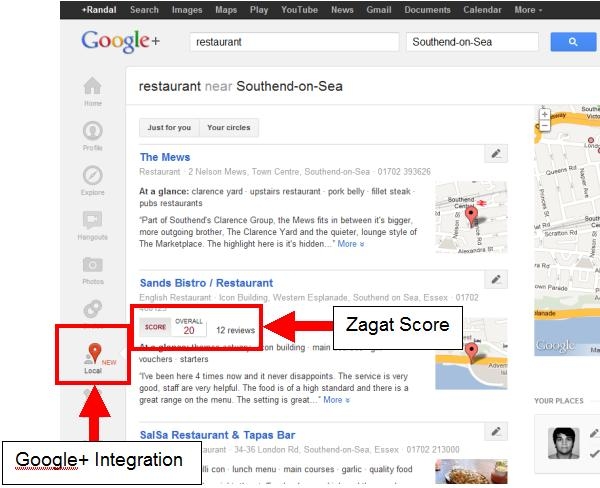 Google Maps for Android
Another new addition is through Google Maps on Android devices to allow the discovery of businesses whilst on-the-go, wherever you are. Google's promotional video shows the capabilities of the Android app with inklings of a potential future update that could allow users to book a table at a restaurant via the app.
Watch a short video about Google Maps for Android
Further developments can be found within Google Map's search results where Zagat scores also feature. For example, running a search on the phrase "bistro in southend" in Google Maps presents the Zagat scores along with reviews and the restaurant details. This hasn't yet made its way to the general results page and it leaves me wondering as to whether or not it will.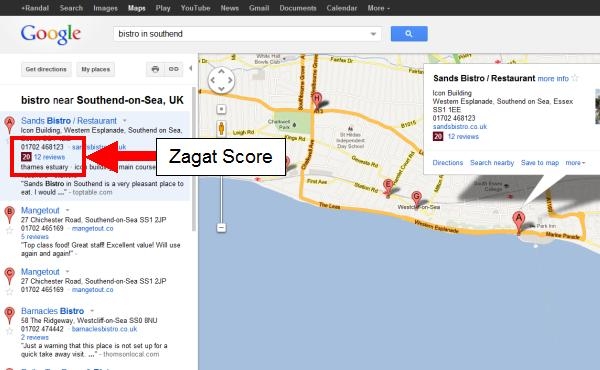 How Google+ Local Can Help Businesses
Recommendations – For local businesses it means that people can recommend you easily using a Google+ account. For example, if a user clicks +1 on the local search result of your company or leaves a review then people in their circles will be able to see this action if they are logged into Google+ through their news feed or in search results for identical or similar key words/ phrases.
Trust – As reviews and Zagat scores are user generated I personally believe they can carry more credibility than standard advertising messages. I can't begin to count the amount of purchase decisions I've made that were influenced by quality review sites. Zagat is already a trusted review site, meaning its reputation can re-enforce the online reputation of your own reviewed and rated company, potentially deeming it a correct choice for searchers.
Feedback – Not all reviews will be positive unless if a business is really satisfying all of its customers' needs. Honest, negative reviews can be useful to see where improvements can be made to improve areas that are highlighted. This could in turn generate more positive feedback in the future if the creases identified are ironed out.
Advice for Local Businesses
Developments in this area of location-orientated search are only going to improve with the growing popularity of Google+. Try searching for your company name in Google Maps to see if you're already listed. If not, I strongly suggest you register yourself for free: http://www.google.com/places/.
If you have any opinions or questions regarding this article or Google+ Local in general please let us know in the comments below.