For quite a while I've been preaching to our clients about the virtues of having UGC (user generated content) in the form of reviews. However I've always tried to look through the eyes of their target customer and set aside my personal preferences.
I attended a Google Ad Factory workshop last week and was reliably informed that AdWords will shortly be displaying "seller ratings" (in the UK) in the form of a set of 5 golden stars (5 being the best, 1 the worst). The symbol will appear underneath an Sponsored Link's Ad. Apart from being an eye-catcher (much like the Google Checkout button) it will make an Ad stand our from the crowd. Imagine having 3, almost identical, Ads apart from one of those Ads has the addition of 5 golden stars! Click, click, click!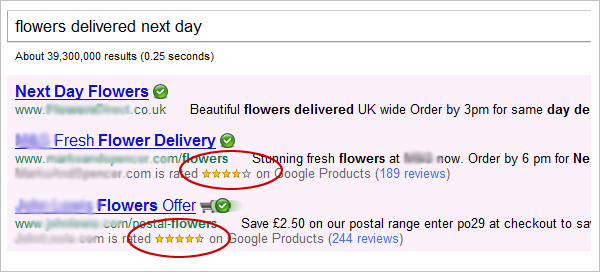 It's not going the be easy to get these, soon-to-be-coveted stars, though. You will need at least 30 reviews relating to the product or landing page associated to your Ad.
Your customers may already be reviewing your products on one of the many review sites like ReviewCentre.com. Or possibly via shopping portals or comparison sites like Google Products, PriceGrabber.co.uk and Shopzilla.co.uk.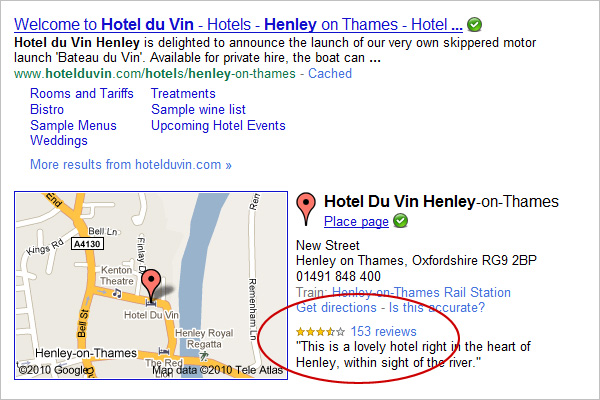 One way to start accumulating reviews is to send an email to your customers asking if they would like to write a review on their experience with your company or their purchase in particular. Why not send an automated email upon despatching their order. The email can contain a link to your own website review form or a review site. Why not use Google Places / Maps review facility.
Google will find reviews on Google Places and certain review websites and pull these into their Advertisers Sponsored Links.
For more info on seeing your seller ratings appear within Google's organic results read my article about Google's Rich Snippet support.
Have fun.